With her 138 feet (42.2 metres), Douce France is the largest schooner sailing catamaran in the world. EXMAR Yachting has the honour to introduce this elegant and sophisticated catamaran to potential new buyers: a unique opportunity, as she is being offered for sale for the first time in over 15 years.
Background
Douce France is designed for adventure and graces the tropical blue waters with her gentle yet impressive appearance. Built by specialist Alumarine and designed by world-renowned naval architects and multi-hull specialists VPLP (Van Peteghem and Lauriot Prevost), she is an elegant, sophisticated and sexy catamaran. Her shallow draft allows you to set sail to unspoiled places, and her sleek lines mean that she can achieve high speeds under sail.
Refitted in 2015 and with continuous upgrades since (including just this year), she is incredibly well-maintained. Her length of 42.2 metres and the 15.4 metres beam have given her the nickname 'the gentle giant', though gentle isn't always the best way to describe this spectacular schooner, as she can achieve 13knts speed under engine, thanks to her new main engines. She is sure to leave anyone who sees her impressive yet elegant appearance in absolute awe.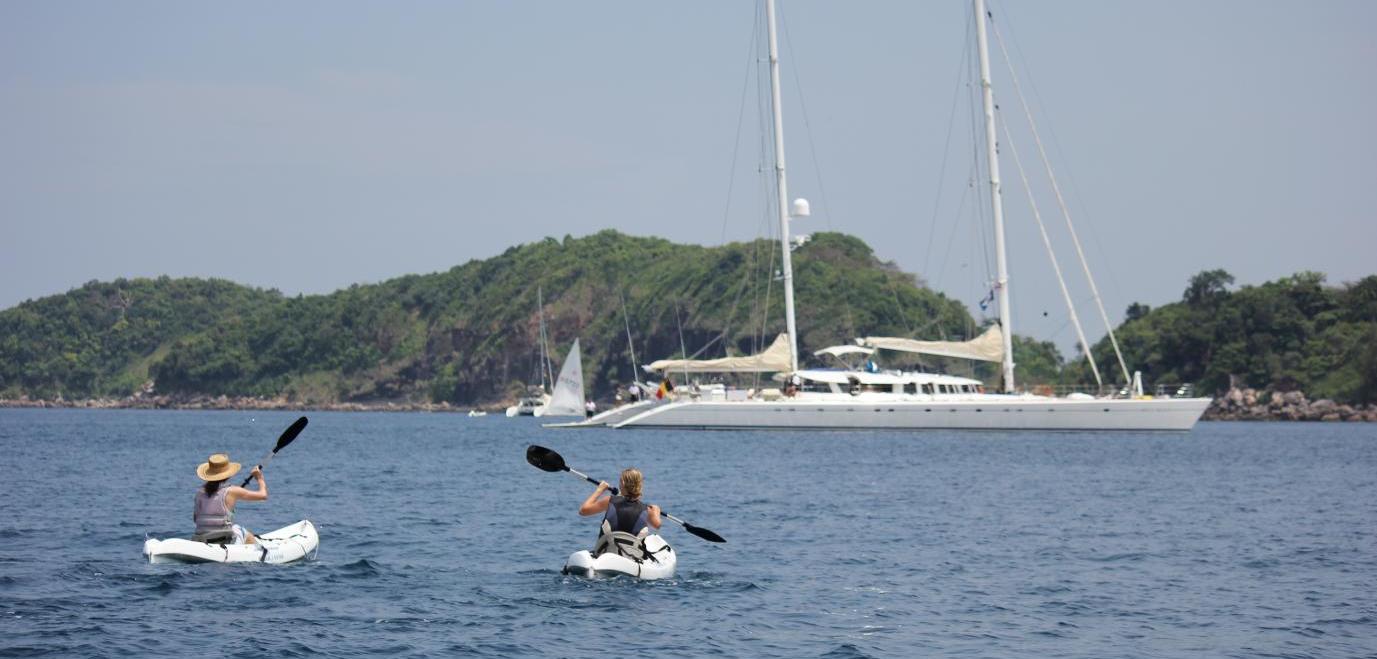 Interior
Douce France's interior is the essence of elegance. With Mahogany and Rosewood exuding a luxurious charm, Guests appreciate her spaciousness, yet warm and intimate feel. With large deck spaces and six similar-sized, air-conditioned staterooms with en suites, she comfortably sleeps 12 guests. Her layout means she is perfectly catered towards hosting large groups or families.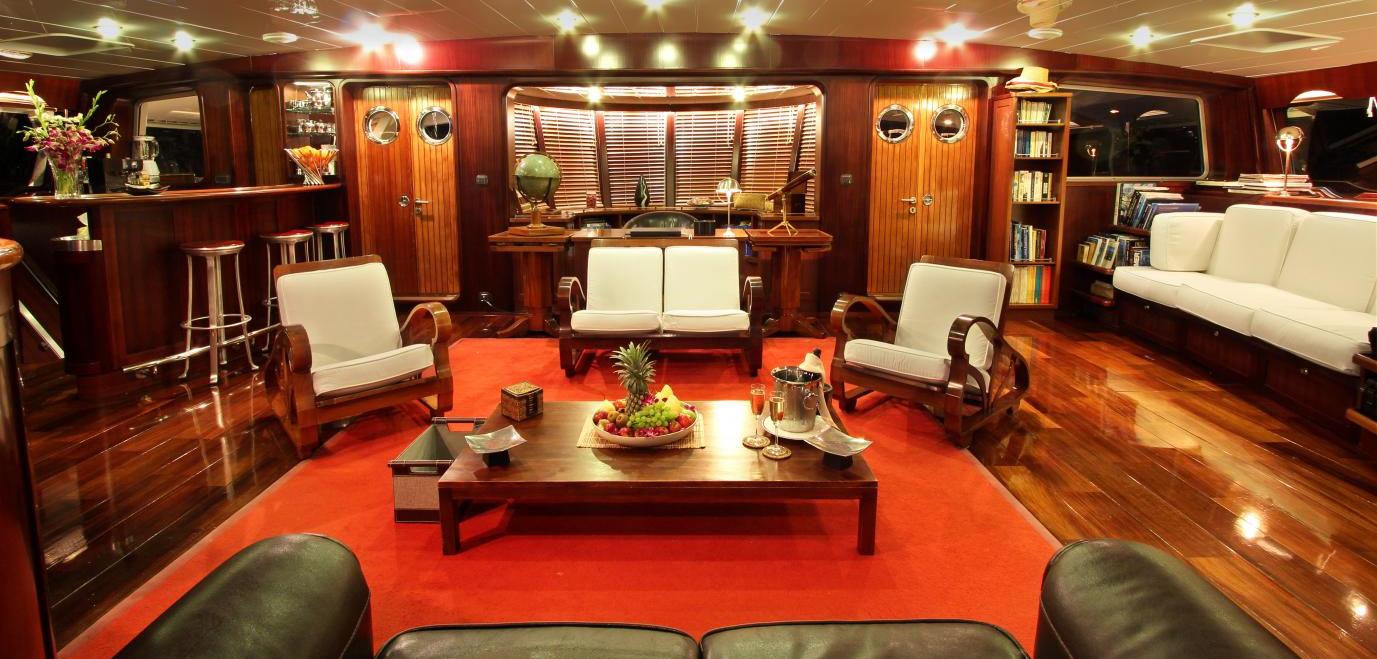 The galley is situated below deck, leaving room for a spacious saloon. Douce France also has incredibly spacious decks. Guests have a choice of multiple lounge areas where they can wine and dine, enjoy a cocktail or simply sit back and relax. There is the spacious cockpit, pleasantly shaded by the overhang of the flybridge; the flybridge itself, perfect for enjoying a cocktail while observing the captain; the intimate lounge to retreat to on cooler evenings; the aft deck, where you can dine under the night sky in the warm breeze; and the trampolines, which lend themselves as an exquisite sunbathing area while enjoying the refreshing ocean spray.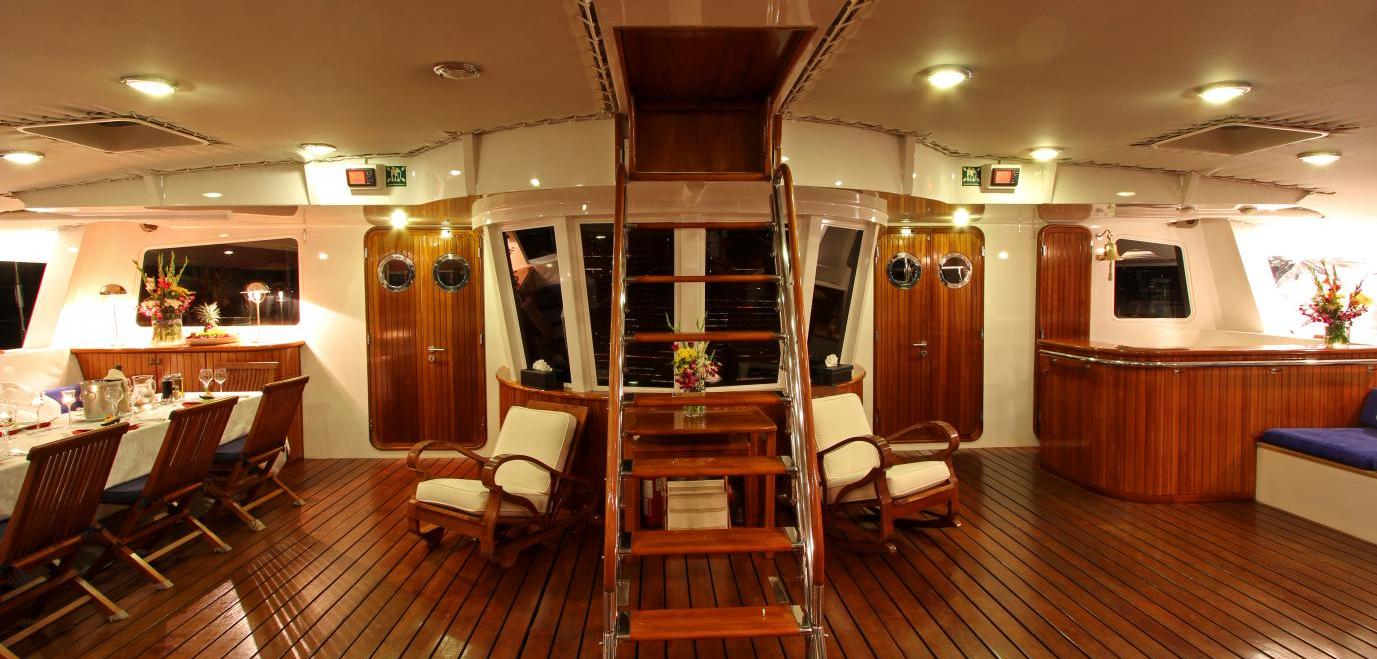 Extras
Douce France has plenty to offer to active guests. With a large selection of water sports equipment, you can enjoy a range of activities such as water-skiing, kayaking, sailing, fishing and windsurfing. She also has all the diving equipment to explore life below the waterline. The large, hidden swimming platform drops below the waterline, allowing you easy access back on board.