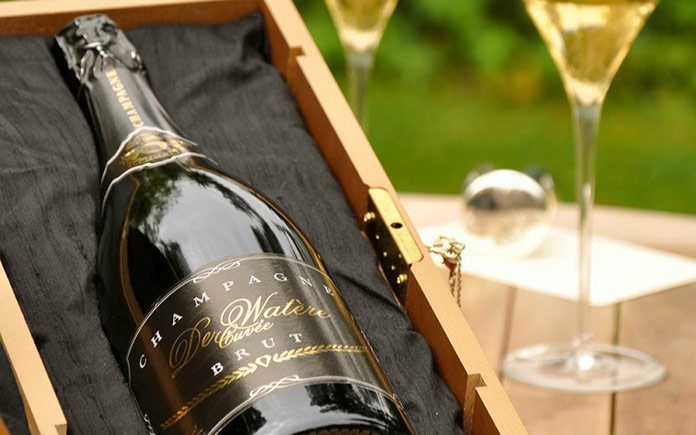 Luxury Champagne for all Senses.
The Brut Blanc, a cuvée from 80% Pinot Noir and 20% Chardonnay, optically presents itself bearing a gold, light luminescent colour.
The connoisseur is being served the perfect combination of freshness and maturity. Nuances of cinnamon and exotic fruit elegantly support the diversity of aromas. The premium champagne distinguishes itself by its balanced and decent dosage.
It serves excellently as an aperitif. However, it will also prove itself during the course of a meal up to desert.
The Diamond Edition marks the top of the line De Watère Champagne.
Strictly limited to 50 pieces only, it comes with a special gold coin underneath the bottle to commemorate the history of the De Watère's, which is spanning almost a millennium.
The authenticity and uniqueness of the product are guaranteed. The bon vivant can be sure to receive a GIA certificate for their diamond, which ensures them of the quality and specifications of their jewel. In addition to that, the gold coin carries an individual registration number. The gold coin and diamond are bedded in a high-quality transparent case and attached to the bottom of the bottle.
These features are proof of authenticity and underline the special origin of the De Watère Diamond Edition Champagne.
Certified Gold Coin: ca 1oz / Au 999, bearing the De Watère emblem
Diameter: ca 30 mm
Gauge: ca 2.4 mm
GIA-certified Diamond: 0.99-1.01 carat ; D ; FL/IF ; Excellent Cut
Packaging: The 0.75 lt. bottle, including its luxurious extra, comes in a handmade wooden case, finished with matte gold laqueur.
De Watère prefers traditional methods of production.
Everything at the De Watère vineyard in the Vallée de la Marne is kept as traditional and as environmentally friendly as possible.
Therefore, starting from preparing the grounds for the the vines, De Watère use horses for plowing as they are emission free and there is less compression to the ground. Later, they use the same horses to bring the picked grapes on horse drawn carriages to the press which is, naturally, operated manually.
During the growth period, pesticided aren't used. Instead, rose bushes are planted at the end of the rows of vines to serve as early indicators for possible disease.
Everything, starting from the glass for the bottles over the labels to the boxes, is made from eco-friendly materials, always trying to avoid emissions as well as waste.
The wood for the boxes, for example, comes from sustainable plantations in Bavaria, Germany.
You can demand such as bigger or smaller diamonds, arrangements of precious stones as well as different materials for the coin. You can make it truly your De Watère Champagne experience. Once you've finished the drink, you can return the coin and the diamond to De Watère and they will fashion the gold and the diamond into a personal jewellery piece of your choice.
Price: €35,000