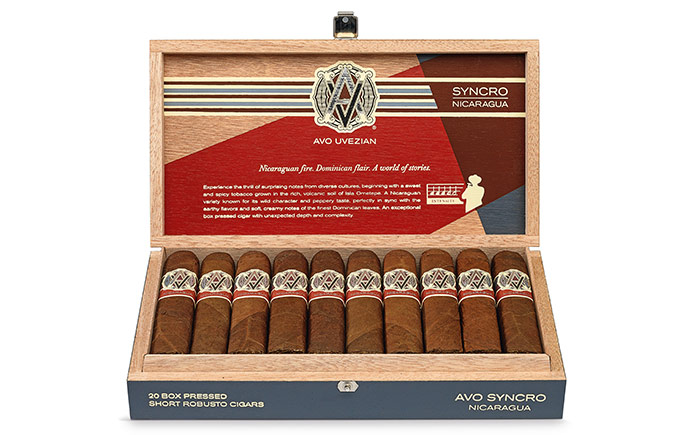 Introducing Davidoff Nicaragua Box Pressed: a cigar which brings uncharted territories of taste, stirring the senses of those who discover them. The spice has been boosted with a fiery Esteli Ligero leaf that complements aged Jalapa, Ometepe and Condega tobaccos for a complex bitter sweet palate stimulation.
A richer, sharper Habano Nicaragua Oscuro wrapper then rolls the experience into a dynamic box pressed format to liberate enhanced flavours and aromas.
Inspired by the cosmopolitan lifestyle of cigar legend Avo Uvezian, AVO Cigars has ventured beyond its Dominican roots, capturing exotic notes from vibrant cultures around the world to create an exciting collection of blends called Syncro.
On the island of Ometepe, in the rich soil that lies beneath one of Nicaragua's most active volcanoes, a uniquely sweet and spicy tobacco is grown. Known for its wild character and peppery notes, AVO Cigars carefully blends this Nicaraguan tobacco with only the finest Dominican leaves, famous for their earthy flavours and soft, creamy notes.
This fusion delivers a perfectly smooth and balanced box-pressed cigar with unexpected depth and complexity ― an exceptional cigar to be enjoyed and shared.
"Experience the thrill of surprising notes from diverse cultures! AVO Syncro brings new and exciting blends to delight today's aficionados. The fusion of tobaccos from various origins allows the creation of new and surprising taste experiences that will, in the AVO way, generate memorable sharing moments," says Charles Awad, Senior Vice President Global Marketing & Innovation at Oettinger Davidoff AG.
AVO Syncro Nicaragua starts stimulating the back area of the palate with complex spicy and peppery flavours evoking a wild character at the beginning due to the pronounced Nicaraguan and Peruvian filler tobacco.
In the second third the cigar gets smoother, from being peppery and spicy to creamy with complex wooden, sweet and floral flavours followed by rich aromas. There is a cheerful harmony between the Nicaraguan and the Dominican Mejorado tobaccos that are further enhanced by the creaminess of the Ecuadorian-grown wrapper.
This combination creates an unexpected, yet accomplished harmony and taste, stimulating the Nicaraguan and Dominican taste experiences at the same time. A multilayered, complex and voluminous cigar that stays enjoyable and interesting from the first moment of enjoyment until the last.