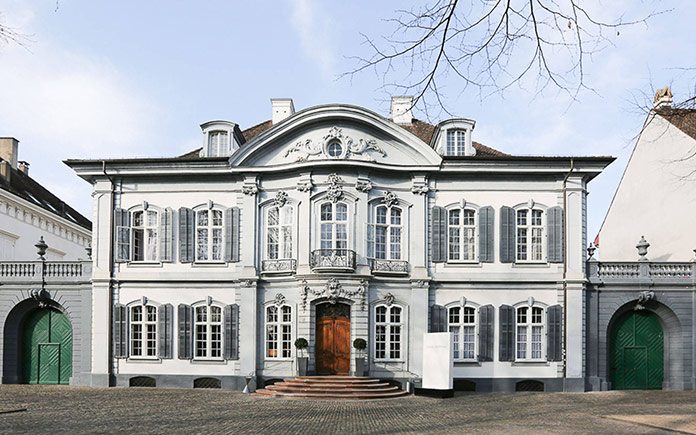 Part of the official Baselworld program, Louis Vuitton welcomes guests to a haven removed from the tumult of the fair. For the past three years, the Louis Vuitton Villa in the heart of Basel has presented the House's latest watch creations to the international press.
Nestled in the former university campus in the city's heights, the Wildt'sche Haus has for the past three years been home to the Louis Vuitton Villa during Baselworld. With its distinctive style of the residences built by silk merchants in the 18th century, the mansion's centuries-old décor provides an elegant venue to welcome guests, enhanced by modern art works and contemporary furniture. A perfect setting for the Louis Vuitton universe to work its magic…
On the first level, visitors discover the craftsmanship of master watchmaker Michel Navas, who has set up his moveable workbench to reveal his latest inventions. He rings the cathedral chimes that imitate the deep sonority of church bells and equip the new Escale Répétition Minutes Worldtime watch. He also presents his watchmaking tools, designed specially for him by Louis Vuitton workshops.
Adjacent rooms display the latest chronographs from Louis Vuitton, delicately encased in trunk-like boxes. This is not a place for sales or meeting marketers, since Louis Vuitton only sells its watches in its network of stores. Rather, this is an opportunity for a journey to the heart of watchmaking inventiveness, and for discovery of truly amazing mechanisms.
On the Escale Timezone and Evolution Spin Time, the hands are accompanied by rotating discs and squares, allowing globetrotters to display the time in different time zones on the dial of their watch.
As night falls, the facades of the Louis Vuitton Villa light up and festivities shift to the building's interior courtyard. In a winter garden created for the occasion, some sixty guests have a chance to talk about time and timepieces over drinks, dinner or during a special soirée.
Members of the media from a different region of the world are invited each evening to this haven of tranquility. Languages and cultures mix harmoniously in the elegant décor. Faithful to the House's emblematic philosophy, a visit to the Louis Vuitton Villa becomes a journey beyond time.