The long-term collaboration between Piero Lissoni and Knoll has evolved over time in a range of various projects poised halfway between the home and the office: sofas, chairs, armchairs, bookcases and tables like Avio, Matrioska, Red Baron, Grasshopper, KN and Gould. The holistic, sartorial approach of the Milan-based architect, driven by exceptional aesthetic sensibilities, has had a major impact on the Knoll style, reinforcing the dialogue between tradition and a contemporary spirit, in keeping with the historical legacy of the company.
For 2020 Knoll presents Matic, an innovative system of sofa components created by Piero Lissoni and conceived as a platform suspended in space, somewhere between an island and a work of architecture. The distinctive characteristics, here again, are aesthetics and technology. Low, linear seats, enhanced by capitonné details, are joined by armrests and backs that can be shaped thanks to an internal mechanism offering structural support and comfort. The cushions complete the collection, guaranteeing absolute ease during use. Timeless aesthetic details of lightness and elegance meet with precise workmanship at the highest levels of technology and quality, values that have always been earmarks of the Knoll character.
The new offerings also include KN06, a seating collection based on understated design and stylistic refinement, as an expansion of the KN Collection family presented by Piero Lissoni in 2018. The chassis made with a particular molding process is like a half shell, resting on four graceful, slender legs. Available in a range of variations, KN06 can be inserted perfectly in any setting, from a modern, refined living room to a luxurious lounge area.
To describe the creative process behind his collections, Piero Lissoni says:
"The visible form is the synthesis, the transparency; the invisible part, the work that makes it possible for the visible to come to life. The success of a sofa, of a chair, of an arm-chair depends on the way in which the visible and invisible speak to each other."
Matic
Designed by Piero Lissoni
Matic offers new functional and aesthetic possibilities. Modular or linear, the collection stands out for its ample seats of different depths, covered in leather or fabric. It is composed of modules, including chaises longues and terminal peninsula units, to provide seats upholstered with evenly-sized squares, or detailed with a T-shaped seam, combined with a special curved back featuring a mechanism that can be turned to adjust comfort for relaxing, reading or conversation. The frontal profile – the key aesthetic feature of the design – enables adaptation to a wide range of settings, in aluminium with a shiny finish or charcoal painted finish. Other choices include covering in fabric or leather. The feet are in aluminium fusion, with either a shiny finish or charcoal painted, while the frame has been designed like a building with a rigorous structural layout. A high-profile technological exercise that sets the character, narrating a stylistic mission while logically determining its own form.
Silent by nature, the Matic collection can enter any context with discretion, almost blending into the background; or it can take center stage with its forceful (though always discreet) character. Ideal for the home or for contract environments, Matic represents a tribute to original Knoll design, with a clear reference to the stylistic approach developed by Florence Knoll.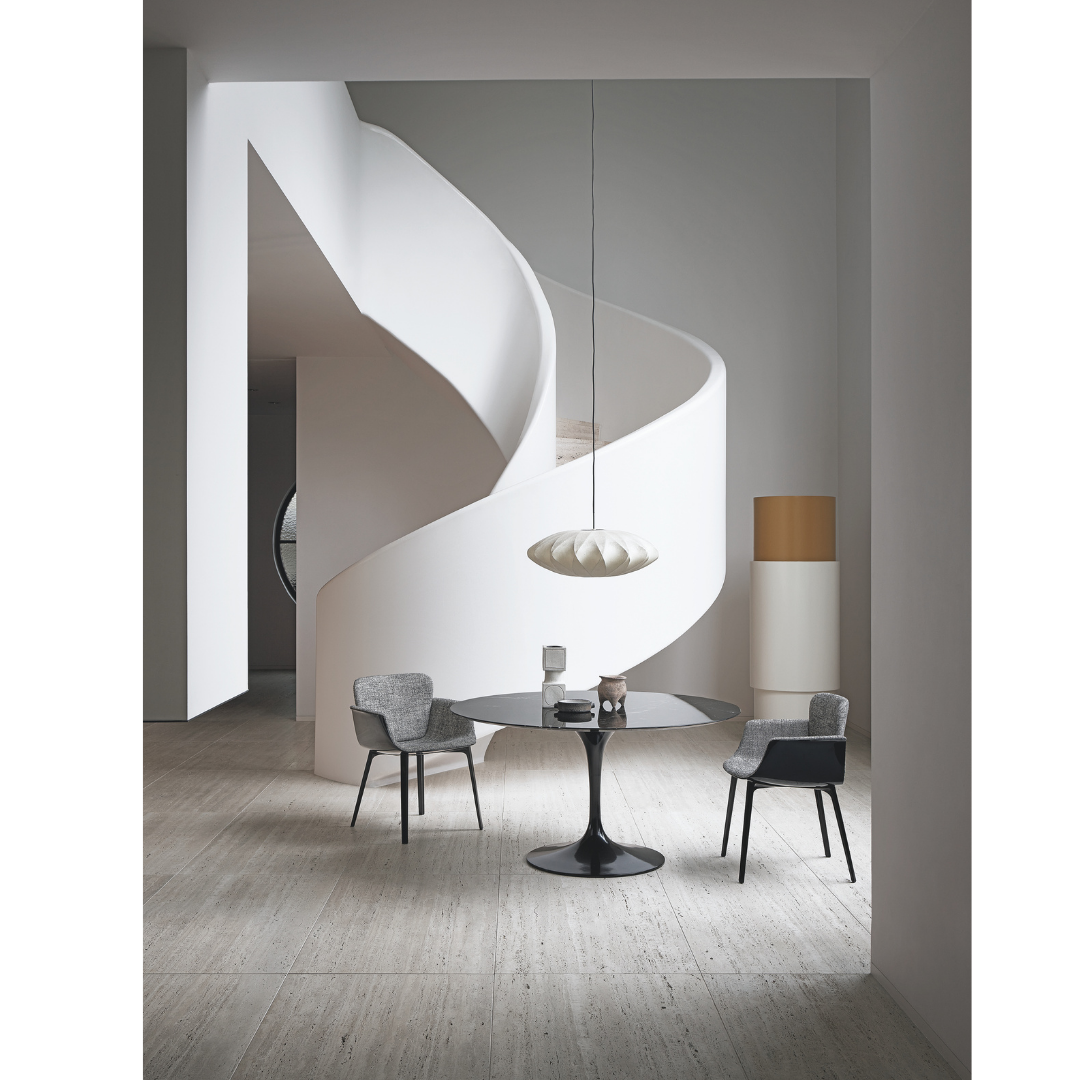 KN06
Designed by Piero Lissoni
Thanks to special molding technology, the KN06 chair is born perfect: the expression of an absolute balance between modernity and tradition. Its form, as the outcome of a sophisticated production process, suggests a half shell gently raised on four fingers, an imaginary embrace for those who choose to settle into it. The minimalist design brings visual harmony, uniting the inner and outer surfaces in a single softly undulated line, and then resting the result on four cast aluminium legs. Looking towards the future while at the same time paying homage to the great design of the past, KN06 is most effective in residential settings or high-image areas like lounges and lobbies.
The formal feature of KN06 is the perfect unity of the seating and structure, free of any irregularities. The shell is in fiberglass painted in glossy white or glossy black, or upholstered in fabric or leather. The seat and back in molded flexible polyurethane can also be covered in fabric or leather. The base with four legs in aluminium fusion is in a glossy finish or painted in glossy white or glossy black. Thanks to its image derived from a perfect blend of industrial and technological excellence, KN06 is a solution that will last in time, nimbly adapting to a myriad of contexts and uses. The collection calls for a wide range of materials and finishes, enhancing every creation while underscoring its modernist spirit.
As in the past, Knoll confirms its character as a company of remarkable creative vision, which thanks to its corporate philosophy has made this trademark famous all over the world, along a steady path of continuous growth. Founded in 1938 through collaboration with the greatest masters of design and architecture of the 20th century, Knoll moves forward today by developing projects with the most outstanding contemporary talents.