Versace Home introduces the new home collection for the Home and Interior Design projects from Artistic Director Donatella Versace for Salone del Mobile 2016.
A luxurious and comprehensive collection that includes four brand new lines – Les Etoiles de la Mer, Vasmara, Gvardian and Via Gesù Palazzo Empire – and for the very first time, an exclusive design piece with climate proof finishing: the MESEDIA chair.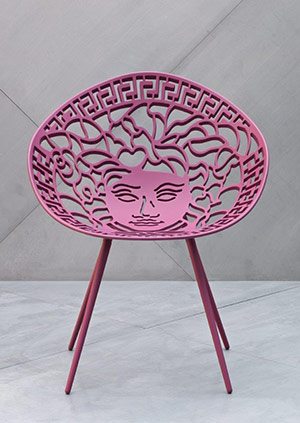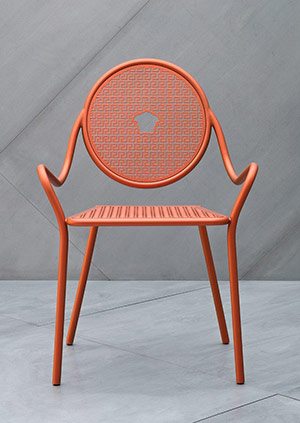 MESEDIA – the emblematic symbol of the 2016 Versace Home collection, the new chair is made of climate proof aluminium, shaped as the iconic Medusa.
As a first of its kind for Versace Home, it's designed for modern living and available in five colors: haze, storm, cloud, purple sunset and sunrise.
LES ETOILES DE LA MER – A fresh and refined line for the living, the dining and the bedroom, matching the new Rosenthal meets Versace service of porcelain launched in January.
Soft and sensual shapes, luxury materials such as Fiore di pesco marble, nubuck leather, printed velvets and Mercury wood.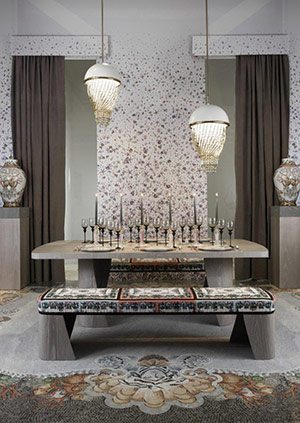 The symbols from the depths of the sea – shells, starfish, pearls and corrals – typify the new print LES ETOILES DE LA MER of the textile collection: a delicate color palette of light grey, pink, peace blue and spirited orange.
The elaborated décor is shown throughout on table top, furniture upholstery, wallpaper, carpet and floorings.
VASMARA – This collection inspired by urban escapism presents furniture and furnishings for living, dining and bedroom with leopard and zebra prints decors, precious leathers and silk jacquards with gold.
Innovative materials such as precious woods for the new cabinet bar and zebra marbled top for the coffee table, paired with neutral and vibrant colors such as khaki, purple, orange, haze and white.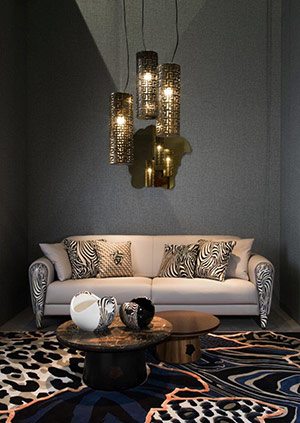 The sofa VASMARA is made of soft ivory leather with zebra prints on the front of its arms.
The iconic Medusa by Versace comes in a silhouette shape set as a signature on all of the pieces.
GVARDIAN – Futuristic and aerospace edgy, this new collection presents clean and strong shapes with neutral colors such as black, ivory and moon grey in leather or textile upholstery.
The table top consisting of carbon fiber conveys a one-of-a-kind visual and tactile effect. The range of furniture consists of items for living, dining and office.
VIA GESU' PALAZZO EMPIRE – One of the most important lines of Versace Home, the Via Gesù collection is expanded with smooth shapes and soft furnishings.
Dramatic and elegant, the new Via Gesù PALAZZO EMPIRE sofa with the defining "V" shape in its design is a unique piece in the softest nubuck sky blue leather, the arms highlighted by a lacquered matte Medusa head.