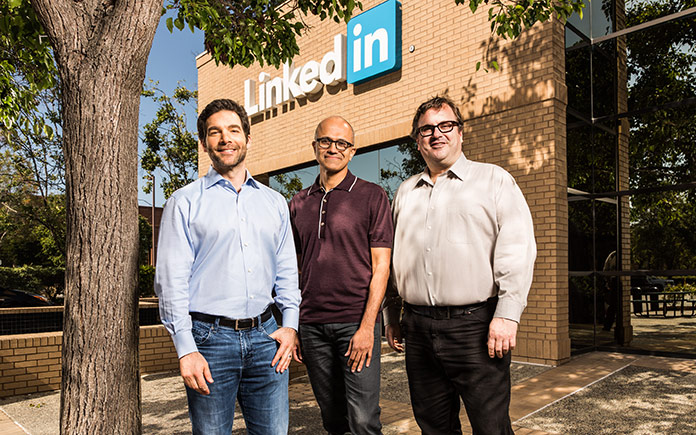 The fifth largest tech deal ever
Microsoft Corp. and LinkedIn Corporation announced the other day they've entered into a conclusive settlement under which Microsoft will certainly acquire LinkedIn for $196 per share in an all-cash financial transaction priced at $26.2 billion, including LinkedIn's net cash. That's 48% beyond LinkedIn stock's ending price at the end of the day on last Friday.
LinkedIn experienced a long, multi-year run as the best-performing online social network in the stock exchange. However during the last 6 months, shares began to go down as Facebook  has increased.
LinkedIn will maintain its unique brand, culture and self-sufficiency. Jeff Weiner will continue to be CEO of LinkedIn, reporting to Satya Nadella, CEO of Microsoft. The deal is predicted to close this year.
LinkedIn stands out as world's largest and most beneficial professional network and continues to build a strong and growing business. During the last year, Linkedin has released a new version of its mobile app that has improved member engagement; boosted its newsfeed to provide a better business experience; purchased a major online learning platform known as Lynda.com to penetrate a different market; and presented a brand new version of its Recruiter product to its customers.
These innovations have lead in increased registration, engagement and economic benefits, precisely:
19 % growth year over year to more than 433 million members around the world
9 % growth year over year  to more than 105 million unique visitors per month
49 % growth year over year to 60 % mobile usage
34 % growth year over year to more than 45 billion page views every three months
101 % growth year over year to more than 7 million active employment postings
For Microsoft, the deal will help it in it mission of trying to keep services like Outlook email relevant enough that customers won't want to leave it for competitors such as Google's Gmail.
"The LinkedIn team has grown a fantastic business centered on connecting the world's professionals," Nadella said. "Together we can accelerate the growth of LinkedIn, as well as Microsoft Office 365 and Dynamics as we seek to empower every person and organization on the planet."