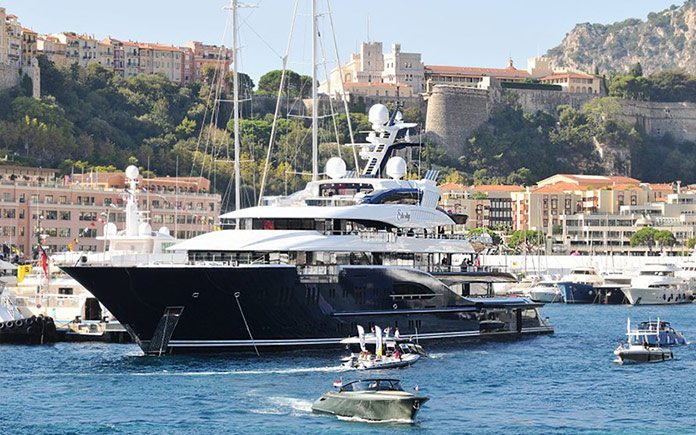 Shipyards featured at the 2015 Monaco Yacht Show
Abeking & Rasmussen
Abeking & Rasmussen, located in northern Germany, was founded in 1907. Over the decades, the yard evolved into a highly respected and pioneering shipyard with a worldwide reputation for quality, craftsmanship and innovation to this day.
Still family-owned, the yard is truly state-of-the-art, with the capacity of building ships and yachts up to 410 feet in length in five covered sheds, making the production process independent of any weather conditions. A&R Motor Yachts distinguish themselves through extremely low noise and vibration levels and provide owners with the highest level of luxury.
Acico Yachts
Acico Yachts is based in the pretty Dutch town of Enkhuizen, where ship and yacht building has been a tradition for decades. Acico-Yachts is part of the well renowned and established Acico Industries concern. Our team of 60+ craftsmen transforms aluminium and steel into the finest sailing and motor yachts.
While having our own in-house casco construction, mechanical department, carpenters, engineering, project management as well as naval architects, we are one of the few Dutch yards who still offer full expertise of yacht building under one roof.
Admiral Sail-The Italian Sea Group
Christened "GIGRECA", this deck saloon sailing yacht features a composite hull and deck; differently from other sailing yachts of her category, she boasts a double engine configuration which guarantees fast and safe passages, without compromising the performance under sail. The Silent 76 creates a new breed into the blue-water cruising yachts; she is clearly a fast cruiser, offering a high level of customization both inside and outside, all cloaked into a proven hull.
Advanced Italian Yachts
Advanced Yachts is a company made up of sailors with the experience and knowledge to understand the needs of like-minded people. Owners can choose from a variety of finishes and layouts to build a tailor-made yacht that meets their needs and exceeds their expectations: a yacht that is a dream come true.
Aluship
Structural Engineering Coordination and outfitting engineering Building and construction of aluminium and steel hulls and superstructures for leading megayacht yards from 28 – 130 m.
Ames
Don't miss their spectacular new 57.70 m, 970 GT AMELS 188, as well as DAMEN's new 65 to 100 m SeaXplorer luxury expedition yacht range. They're also hosting stunning 60 m headturner MADAME KATE. AMELS is part of DAMEN Shipyards, makers of the purpose-built 43 to 85 m Yacht Support range as well as the new SeaXplorer range.
Azimut Bennetti Group
Azimut Yachts is an Azimut|Benetti Group brand. it offers the broadest range of 34 to 120-foot yachts. It is active in 68 countries and has 138 dealers and service centers; it has direct representation and service offices in Shanghai, Hong Kong, Fort Lauderdale (USA) and Itajai (Brazil).
Bennetti
BENETTI Historical Italian shipyard founded in 1873 is part of Azimut|Benetti Group, the largest private owned builder in the world. BENETTI CLASS – Displacement Class Displacement range is currently composed by: Delfino 93',Tradition Supreme 108', Classic 121', Classic Supreme 132', Crystal 140' and Vision 145' BENETTI CLASS – Fast Displacement. This line of composite yachts already includes two models: Veloce 140' and new Vivace 125'. BENETTI CUSTOM Megayachts over 47 meters (155′) made of aluminium and steel designed made to measure for the most demanding clients throughout the world.
Baglietto
Baglietto shipyard acquired by Gavio Group in 2012 is specialized in the construction of new aluminum planing motor-yacht from 35 onto 50 meters as well as displacement super-yachts above 40 meters in aluminum and steel. Baglietto shipyard spreads over 35.000 square meters and faces La Spezia and the "Poets' Gulf" which is a strategic area for the navigation of super-yachts in the Mediterranean sea. Furthermore, the shipyard has mostly finished a renovation project of the production area with includes considerable modifications and up-grading of the workshop facilities.
Balk Shipyard
Baltic Yachts
Baltic Yachts is today a well-known builder of high performance sailing boats that are exclusive, tailor-made dream yachts of high quality material. We build custom yachts up to 200+ feet, and our business vision is to be one of the leading boat building companies in the world. In order to build light and strong yachts we utilize the latest high-tech materials and methods, but we are also pioneers in research and development. We are based in Finland where the skillful people working at our yard have a huge knowledge of boat building and can make almost any sailing dream come true.
Bilgin Yachts
Established in 1929, over 85 years ago, Bilgin Yachts is a leading yacht building company based in the international commercial hub Istanbul. Its world-standard yachts are constructed in a space of 27,000 sqm, spread over three shipyards. Fully customized motor yacht building services are offered through in-house hand craftsmanship in Bilgin's 5,000 sqm marine furniture factory and 2,500 sqm stainless steel workshop. The international quality standards are reflected through its decades of service and continuing customer loyalty, with over 100 satisfied Bilgin-produced yacht owners.
Blohm+Voss
Blohm+Voss has built many of the most innovative, complex and iconic megayachts ever launched. Founded in Hamburg in 1877, the shipyard has an unrivalled history of top quality shipbuilding and their portfolio represents what is widely regarded as the pinnacle of superyacht design, engineering and construction. Their history encompasses every single area of large ship construction and repair; including cruise liners and offshore oil and gas refineries. The shipyard focuses on new-build superyacht projects for clients who are unwilling to compromise on any aspect of the design or quality.
Brodosplit
Brodosplit shipyard is located in Split, the regional center of the eastern Adriatic coast and the second largest city in Croatia. Katina is the biggest m/y built in Croatia with accommodation for 12 passengers in 6 VIP cabins and 10 crew members designed for unrestricted navigation. Three spacious decks give guests lots of space for friendship. She's been built and certified in accordance with the rules and regulations of the Croatian Register of Shipping and Marshall Islands yacht code. THE KATINA represents one of the most distinctive and fully equipped luxury motor yachts available on the sales market today.
Cantieri di Pisa
Cantieri di Pisa is a historical brand of the Italian yachting industry, born in 1945. The new yard, which still dominates the Darsena Pisana, was built in 1956. In the 70s' CdP reached the climax of its success also thanks to the collaboration with the architect Spadolini and became synonymous of Italian quality, building yachts that represent a benchmark for every yacht builder all over the world. In 2015, Cantieri di Pisa is back with new owners with the intention of preserving the identity of the shipyard, enhancing the elegance, the essential style and the supreme quality of its products.
Cerri S.P.A.
CCN shipyard specializes in the construction of high-performing fiberglass yachts and steel and aluminum/all aluminum yachts ranging between 24 and 35 m in length. The shipyard has recently launched a new range of products, including the restyling of the 102' Flyingsport line, a new line of steel and aluminium/all aluminum Navetta yachts designed by Studio Spadolini in the range of 24/27m and 35m, and a new series of highly flexible and performing Expedition vessels of 35m, which are ideal for long-range cruising and to experience freedom and contact with sea and nature to the fullest.
Classes Shipyards
Come and see the brand-new Truly Classic 127 Atalante make her debut at the Monaco Yacht Show. The first Truly Classic 127 Atalante has been delivered by Claasen Shipyards in the Netherlands to a delighted repeat client. Designer and naval architect André Hoek is equally impressed by this exceptional super yacht: "Atalante's build quality and design place her among the finest boats in this category and confirms Claasen Shipyards' position among the yacht building elite."
CNB
Since 1987, CNB has been building sailing and motor yachts in aluminium and high tech composite from 60′ to 200′. With more than 90 boats delivered to yachtsmen and connoisseurs, we have acquired unparalleled experience meeting the highest standards of technology and luxury. Several prestigious international awards pay tribute to this savoir-faire.
CNM-Cantieri Naval Del Mediterraneo
Cantieri Navali del Mediterraneo is part of the Gruppo H1 Holding SpA, a premiere financial and holding company working mainly in the real estate sector. The CNM brand arose from the group members' great love of the sea and fast cruisers in particular. The shipyard is a short distance from Rome, at km 14.400 along the Via del Mare, and is spread over a surface area of 24,000 msq, 5,000 msq of which are covered with tents and tensostructures, and 9,000 msq of open space.
Columbus Yachts
Columbus Yachts is one of the youngest and most dynamic brands in the global super yacht industry. The brand is owned by the 45-years old Palumbo Group, which is building high-quality, technologically advanced superyachts on proven platforms to ensure seaworthiness and efficiency. Two yachts have recently been launched: a second 40m and a Classic 57m plus a new Oceanic 70m which is now under construction in Naples and expected by 2017.
Conrad S.A.
CONRAD SHIPYARD is a professional yacht yard, which specializes in building the highest-class steel and aluminium custom yachts: lengths ranging from 15 to 60-meters. We are located in Gdansk, the most recognisable polish city by the Baltic Sea. Except for building and renovating yachts for special orders, our yard offers the 20-meter luxurious sailing yacht Conrad 66 and the 18-meter classic motor yacht Conrad Classic 58. Both these two yachts are original products of Conrad Shipyard. Their specialty is also the production of luxurious yacht furniture, which meets the highest-class standards.
CRN Shipyard
CRN Shipyard is an Italian builder with over 50 years of history, specialised in steel and aluminum mega yachts, from 40mt to 90mt, CRN has based in Ancona (Italy) features a private marina onto Adratic Sea. The Core of the Shipyard finds his routes on the fulfillment of Client Desires and on the Innovation and grace of his Italian Design with a particular care on quality of construction and details. CRN is constantly forging new design frontiers, finding cutting-edge solutions, Passion and Innovation are guiding principle. CRN Shipyard is an active member of SYBAss and ISS.
Delta Marine Industries INC
Each unique Delta yacht is a masterpiece of innovation and creative design. For almost 50 years, Delta's most important value has remained unchanged; to provide the finest custom yacht manufacturing and services — with an owner's vision and desires at heart.
Located in Seattle, Delta has a worldwide reputation for building custom luxury yachts up to 100-meters, as well as for repairing all types of vessel to the highest standards. As a world leader in composite construction, Delta pioneered the use of composite superstructures on large steel yachts. It also has a complete in-house design team.
Dreamline Yachts
The shipyard, located near Ancona in Italy, is a state of the art yacht-building complex.The shipyard offers projects in both VTR and aluminium, so owners are free to choose the material they wish to build the yacht of their dreams.
Drettmann Yachts
To have a dream is a great pleasure. To make a dream come true is a great challenge, especially if it involves something as complex as a yacht. The new line of the Drettmann Explorer Yacht (DEY) with its striking appearance – compact exterior and extraordinarily spacious interior due to offset levels. A vessel, whose elevated prow will repel splash water and waves far away. Whether it concerns technical aspects, design, interior or equipment, the highly committed couple attend to every single detail – with a fervor that makes anything possible and leaves nothing to chance.
Dynamiq
Located in the picturesque area of Marina di Carrara on Italy's Tuscan coast, the NCA shipyard is one the largest privately owned yards in Italy. This high-tech facility is operated by Italian Sea Group and has experience of building vessels up to 150 metres in length with various powertrain options including diesel-electric and hybrid technology.
Feadship
Based in the Netherlands and with roots dating back to 1849, Feadship is recognised as the world leader in the field of pure custom superyachts. Each Feadship is defined by its superb craftsmanship and sets the standard in every aspect of design, engineering and construction.
These bespoke motoryachts are created in partnership with owners who are prepared to invest in a wonderful building experience and reap the rewards for many years to come in terms of both pleasure and re-sale value. Feadship also operates dedicated charter and refit services exclusively for Feadships.
Ferreti
The Ferretti Group is a world leader in the design, construction and sale of motor yachts and pleasure vessels, with a unique portfolio of prestigious and exclusive brands: Ferretti Yachts, Riva, Pershing, Itama, Mochi Craft, CRN and Custom Line. The Ferretti Group has always been a leader in the pleasure boating industry, thanks to steady product and process innovation and the constant search for cutting-edge technological solutions.
Fincantieri Yachts
Fincantieri Yachts focuses on engineering and producing high-tech premium luxury yachts with size above 70m. The recent deliveries of mega-yachts Serene (134m) and Ocean Victory (140m) and a portfolio of more than thirty exclusive projects place Fincantieri Yachts as a reference player of the top-of-the-range luxury yachts market. Fincantieri Yachts is part of Fincantieri Group, one of the world's largest shipbuilding groups, listed at the Milan Stock Exchange. It is world leader in cruise ship construction and a reference player in other sectors, from naval vessels to offshore vessels.
Fipa Group
Franck Muller Yachts
This is a project born from the encounter of two strong and visionary personalities: Mr. Giovanni Costantino, Chairman of The Italian Sea Group, one of the world's premium yachting Groups, and Mr. Vartan Sirmakes, owner and co-founder of Franck Muller, one of the world's most famous and prestigious watch makers. From this union 'Franck Muller Yachts' has come into the world. This partnership blends the high-end luxury watch & yachting worlds, to create a unique product, where details are well recognizable and the highest quality becomes the regular standard.
Hakvoort Shipyard
Hakvoort is situated in the historic and beautiful village of Monnickendam. Located on the shores of the IJsselmeer lake about 8 miles north of Amsterdam. A century of shipbuilding experience, traditional values of craftsmanship, the latest technologies and the finest equipment and fittings… these are the ingredients that make a Hakvoort yacht so special. Placing luxury and comfort to the fore, Hakvoort builds motor yachts and sailing yachts up to 65 meters in length. We also have purpose-built facilities for major refits.
Helen Yachts
A yacht is a beautiful way to expand your horizons in luxurious comfort. But when that yacht is a Heesen, it can be so much more. Our yachts offer outstanding performance combined with efficient fuel consumption, high-quality construction with cutting-edge technology, advanced engineering with avant-garde design. Heesen builds yachts from 30 to 80 metres, is financially secure, large enough to cope with complex construction, small enough to care about each project, motivated to pioneer innovations and dedicated to continuing the tradition of Dutch quality shipbuilding.
Hodgdon
Having started in 1816, Hodgdon is America's oldest boat builder. Still family owned, the company has evolved into a leader in advanced composite construction while maintaining exceptional skills for world class interiors. The company's divisions are Hodgdon Yachts, specializing in custom sail and power yacht construction; Hodgdon Custom Tenders, building some of the highest quality superyacht tenders afloat; Hodgdon Interiors, crafting high-end superyacht interiors; Hodgdon Yacht Services, devoted to refits and repair; and Hodgdon Defense Composites, constructing specialized defense craft.
Holland Jachtbouw
Our superior reputation for top quality build of innovative custom superyacht projects is unrivalled over more than 20 years. Whether building sailing or motor yachts, our skilled teams take pride in their work to produce a world-class product using efficient modern techniques and cutting edge technology providing an exceptional yacht at a realistic price level. Our new facility in Holland incorporates a 60m by 26m state of the art build hall (18.5m high) along with an extension to the former main construction hall to 55m, all overlooking 120m of waterfront with direct access to open sea.
Icon Yachts
With ICON, it's possible to have a unique custom superyacht designed and built to your specifications and our exacting standards in less than three years. For many yacht builders, combining world-class facilities with world-class talent is everything they aim to deliver. Here at ICON, it's only the start.Based in Holland, the home of yacht building, ICON work with the world's topdesigners, utilising a hyper-efficient system that combines extensive pre-planning with an innovative modular construction technique that guarantees quality & reduces build time.Delivering you tomorrow's ICON today.
Iguana Yachts
With the Iguana 29, Iguana Yachts has made a first step towards success.
JFA Yachts
JFA Yachts is a French yard based in South Brittany on the Atlantic Coast. They are building or refitting both custom sailing yachts and custom motor yachts from 70' to 200' either monohull or multihull, in Aluminium, Steel or Composite. Last Yacht launched is a 85' Sailing Catamaran, first boat of the Long Island semi-custom catamarans brand. JFA is actually building a 135' Motor Yacht and the Long Island 100′ sailing catamran. Exceptional infrastructures with highly qualified craftsmen also makes JFA Yachts the ideal shipyard to handle the most important refit projects.
Jotun
Jotun is one of the world's leading paint manufacturers recognized as the leading supplier of antifoulings. The Jotun group has 71 companies and 36 production facilities on all continents and is represented in more than 90 countries with over 9000 employees. Jotun has a comprehensive range of specialist yachting antifoulings, primers, fillers and topcoats especailly designed for the megayacht Industry, products that have been proven in every sea and ocean of the world, fully supported by an unrivalled standard of technical service and global supply network.
Kusch Yachts
Kusch Yachts is active in all Areas of Design and Construction of Mega Yachts, including repair and refit of existing Tonnage, at the shipyard of Peters Werft in Wewelsfleth. The company had been founded in 1981 by Claus Kusch who delivered several ega yachts to international Clients. Mega Yachts built by Kusch Yachts are famous for their high end Quality – tailor-made in Germany.
Latitude Yachts
Latitude Yachts has a large fully equipped production hall covering an area in excess of 3000 square meters and with surrounding area up to 10000 square meters. We can accommodate boats up to 50 meters in length and 4 meters draught. The length of the deep part of the embankment is 350 m, depth at the shore – 6 meters.
Lloyd Yachts
With a history spanning more than a century and a half, Lloyd Shipyard is one of the most renowned shipbuilders in the world. Located in the port of Bremerhaven in northern Germany, the shipyard has direct access to the sea and offers both dry and floating docks for yachts of over 220 m.
Lotus Super Catamarans Monaco
Our philosophy is to build iconic "Haute couture" Luxury catamarans that surpass any expectation. Our uncompromising obsession for quality and perfection has given birth to Lotus 110′ super catamaran. Custom built in Italy, high performance on sails, and long range will make you discover the amazing Lotus sailing experience. Length: 34m, Beam 14,40m.
Lürssen
Lürssen is proud to present Ester III – a brand new 66 metre yacht that combines a truly authentic classic interior with a unique, distinct and masculine external profile. Based in Germany, Lürssen is the leading shipyard for large luxury yacht building. The Lürssen shipyard is a family business and since 1875 more than 13000 boats, ships and yachts have been built. From the beginning, quality, performance and innovation made Lürssen what it is today: an internationally renowned complete shipbuilder with sales, design, manufacturing and development, service and logistics.
Majesty Yachts
Majesty Yachts is a brand of Gulf Craft, major manufacturer of luxury yachts and fiberglass boats and one of the world's top 10 superyacht builders ranging from 48-155 feet.
Mangusta by Overmarine
Overmarine Group, a family business since 1985, produces maxi open and displacement luxury yachts with the widely recognized brand Mangusta. With more than 300 units sold, it's a company with strong tradition, pioneer in the construction of state-of-the-art yachts, combining innovation, quality, performance, comfort, bespoke interiors. The current range offers Mangusta maxi opens from 72 to 215 ft and Mangusta Oceano long range yachts up to 55m. At the MYS there will be the brand new Mangusta 132. A world première.
Maori Yacht
Maori Yacht offers luxury motor yachts characterized by high performance and continued stylistic research. Under its streamlined sport yacht profile the MAORI has surprisingly versatile interiors with excellent finishings. High-quality accessories combined with outstanding yacht engineering make the MAORI an elegant vessel offering a very high level of cruising comfort.
McMullen & Wing – Yacht Builders
From the beautiful island nation of New Zealand, McMullen & Wing has a reputation for building some of the finest and most capable luxury yachts in the world. McMullen & Wing will be revealing more details of the acclaimed DIAMOND, BLADE and FLOW series of custom luxury expedition yachts at Monaco Yacht Show.
Mondomarine
Mondomarine, born in 1915 under the name "Cantieri Navali Campanella", acquired by Mr. Falciai and Mr. Zambrini in 2013, has built 62 units so far. During the last 9 years, Mondomarine sold 20 yachts over 40 meters length, of which 8 over 50 meters length. The upcoming years will see important events, such as the delivery in 2016 of the M50 and M60s, the first 60m yacht built by the shipyard. All these latest projects are built entirely in aluminium, a distinguishing feature of Mondomarine projects. In spring 2017 the M40 Explorer will be delivered. The new SF40 will be displayed at MYS 2015.
Monte Carlo Yachts
Monte Carlo Yachts is a pioneering project in the Yachting World that breaks new ground. Genuinely Italian in its management, designers and artisanal skills, supported by the industrial strengths of French group Beneteau – the uncontested global leader in the production of sailboats, 2nd world boat manufacturer and among the 5 world power top players – Monte Carlo Yachts is dedicated to crafting timeless luxury yachts.
Mulder Shipyard
Mulder Shipyard builds motor yachts for over 75 years and has a worldwide reputation of undisputed quality based on Dutch craftsmanship. The yards global reputation for quality has been built upon three main pillars: the classic Super Favorite Cruisers, the later Favorite Superior and a range of Mulder custom-built motor yachts. These motor yachts, which are known for their classic lines, high quality and excellent sailing characteristics, still afloat the Dutch and foreign waters today.
Nautor's Swan
Nautor's Swan will celebrate half a century of heritage in 2016, and is recognised as the market leader in luxurious, finely crafted sailing yachts offering the perfect combination of style, quality and performance.
Nobiskrug
With 110 years of shipbuilding experience and more than 750 delivered vessels, Nobiskrug designs and builds timeless and unique superyachts from 60 m up to 400 m in length. Backed by an excellent craftsmanship, these custom-built vessels accomplish each client's vision. Blending modern technology with traditional skills of German master craftsmen, Nobiskrug is entering a new era by building superyachts that will last for generations to come, in tune and ready to cruise into the 22nd century.
Ocean
The shipyard specializes in small- to medium-tonnage ships with steel or aluminum hulls.
Oceanco
Oceanco specializes in building sophisticated custom yachts from 80 to 140 meters in length. Offering a highly personal service to clients, Oceanco applies innovative design and technology to create game-changing yachts that respect the vision of both the owner and the designer. Oceanco is positioned with state of the art yacht-building facilities in the Netherlands complemented by a design, sales and marketing office in Monaco. Since 2007 all of the Oceanco yachts have the distinction of appearing in The World's Top 100 Yachts list: the 82m ALFA NERO and 91.5m EQUANIMITY, to name only a few.
Oyster Yachts
With over 40 years' seafaring expertise, Oyster Yachts is the international market leader for world-class cruising yachts, renowned for unsurpassed quality, comfort and performance. With a full fleet from the 475 to the new 118, every detail of Oyster's yachts and customer care is exquisitely crafted.
Palmer Johnson
Palmer Johnson has long been an innovator in yachting. A pioneer in aluminium construction, now again in carbon fibre, both advanced materials of their time. Fortuna, built for the King of Spain, fastest yacht in the world for a decade. Turmoil, first explorer yacht built and which has circumnavigated the earth three times. La Baronessa, the largest aluminium yacht built in the USA.
Pendennis
Throughout their 27 year history they have delivered 30 custom motor and sailing yachts, ranging from 25-60m. Over this period Pendennis have worked with many of the world's leading Naval Architects and Yacht Designers including Dubois, Redman Whiteley Dixon, Reymond Langton, Ron Holland Design and Dykstra Naval Architects to produce beautifully constructed sailing and motor yachts.
Perinea Navi
At the Monaco Yacht Show 2015 Perini Navi will display SY Melek, the stunning 56m aluminium ketch for the first time open to visitors upon application. A combination of technical brilliance and perfect aesthetics put Perini Navi's yachts in a class of their own. Industrialist Fabio Perini, unable to find the boat that he wanted for himself – a large sailing yacht which could be handled by one person – built his own. Since 1984, the company has added 59 yachts – up to 88m and over in length – to its stable. In-house design allows Perini Navi to implement its own systems & inventions.
Piriou
Half a century of experience and continuous growth have helped establish PIRIOU as a leader in the fields of shipbuilding and ship repair for medium sized vessels.
Pride Mega Yachts
Pride Mega Yachts, a world-class, competitive mega yacht building manufacturer, specializes in the development, creation and marketing of mega yachts in the 80-120m range. From pre-designed vessels to fully customized yachts, Pride Mega Yachts engages world-known resources in naval architecture, exterior & interior design, material & equipment supply to develop yachts that meet the requirements from our discerning clients.
RMK Marine
RMK Marine's Yacht Division is a leader in the building of custom sail and power yachts from 30 metres upwards in composites,steel and aluminium and sets the benchmark for Turkish superyacht industry. RMK Marine is currently developing a new range of concepts, spanning 57 to 76 metres named after famous Turkish archaeological sites and regions such as Halikarnas, Kapadokya and Bergama, these models are the definitive evidence that RMK Marine is focused on taking its place among the leading builders with its programme of continuous investment and improvements.
Rossinavi
In 2007 the shipyard completely restyled its coordinated image with the acquisition of the new "Rossinavi" brand. The creation and development of the entire image perfectly brings together two of the essential aspects that have always distinguished the Rossi Group's management: simplicity and elegance.
Royal Huisman
Royal Huisman is regarded as one of the world's finest custom shipyards and has won multiple industry awards. With its passion for perfection and commitment to innovation, Royal Huisman builds and refits unique custom yachts, modern or classic, sail or motor, aluminium or composite. Its 30,000m2 facility offers unrivalled skills and services that are combined to create bespoke solutions focused on the client's individual brief in a process known as Intelligent EngineeringTM. Royal Huisman's overriding ambition is to exceed the highest expectations of its customers.
Sanlorenzo
Made to measure yachts since 1958 Sanlorenzo shipyard has been manufacturing high quality motoryachts since 1958 and represents a "boutique" of the yachting industry, building a limited number of made‐to‐measure units per year, all of each designed and produced according to the requests, the style and the desires of every single owner.
SARP YACHT
SARP YACHT has created an 10,000 m2 facility in Antalya.The shipyard has hall that can accommodate new construction and refit project up to 70 meters. SARP YACHT is the only shipyard which has Integrated Quality Management System (ISO 9001&ISO 14001 & ISO 18001 OHSAS)from ABS SARP YACHT a créé une installation de 10.000 m2 à Antalya.
Silveryachts
SilverYachts is a builder of high-performance aluminium custom yachts, namely the Silver series of high-performance superyachts: 73.3m MY Silver, 73.3m MY Silver Zwei and 77m MY Smeralda. The new 77m MY SilverFast was recently launched and completed in May 2015 and current builds include 83m MY SilverLoft projects. Working hand-in-hand with internationally renowned naval architect and designer Espen Øino, SilverYachts offers a complete boatbuilding service, from the first conceptual design sketches to final sign-off and delivery.
Southern Wind Shipyard
Southern Wind Shipyard is based in Cape Town, South Africa. It was founded in 1991 by an Italian entrepreneur who is also the current Yard's Managing Director and it is specialized in building large semi-custom sailing yachts that range in size from 25 to 35 meters. With three yachts produced per year and 46 LUXURY CRUISER-RACERS delivered, the yard is a key player in the 30 m+ sailing performance yachts.The yard marketing and customer care services are based in Genoa, Italy, and offer 360° consulting and service.
Spanopoulos Shipyards
Since its foundation, Spanopoulos Shipyards has developed major capabilities in dry docking, ship repair and conversion of ships. The company operates as an independent unit and pursues its own activities based on its particular qualifications, assets equipment and facilities. Therefore the company's vision is no less than to hold leading position in the field of mega yacht repairs, refits and new builds with two operative units, of more than 55.000m², contemporarily in the Piraeus zone.
Sunreef Yachts
Sunreef Yachts is the leading designer and builder of luxury sailing and power catamarans and superyachts from 60 to over 200 feet in the world. Each custom-made yacht is designed in great detail for the most demanding customers and delivers the best in comfort, style and safety.
Every yacht boasts high-performance sailing, luxurious accommodation, expansive living spaces and extravagant and innovative design features. Sunreef also has a wide range of support services that are highly appreciated by owners: yacht charter, yacht management and after sales service with technical support.
Sunrise Yachts
Sunrise Yachts was created in 2006 with a very specific strategy born from a strong and simple vision: to offer original bespoke solutions to their clients, tailored to their needs and wishes, in an industry that it too often set in ways of the past. Owning a luxury yacht is above all an emotional and cultural affair that needs to be entrusted to a team of competent, dedicated and passionate individuals that will ensure that satisfaction in all aspects is achieved. Find out why the novice or most discriminating clients are choosing Sunrise Yachts as the right partner for their yachting needs.
Sunseeker Monaco
Sunseeker Monaco is the official dealer of new and pre-owned luxury Sunseeker motor yachts in Monaco. Our experienced team looks after the demands of clients around the world, helping them to reflect their personality and lifestyle through their chosen Sunseeker.
Tankoa Yachts
The shipyard was created "thinking big", purposely to build mega yachts and to give them an appropriate assistance after the sale. The shipyard is placed in Genoa Sestri Ponente, in the heart of a beautiful country with a millennial history and tradition in navigation and ships building. The location gives the shipyard the added value of being in a strategic position in the Mediterranean sea.
Turquoise Yachts
Turquoise Yachts, formerly known as Proteksan Turquoise, was established in 1997 by two leaders of the Turkish boat building industry. The company started the business with the building of M/Y Turquoise (present Double Trouble) Turkey's first world-class superyacht. Following the success of M/Y Turquoise, 20 other megayachts, ranging from 40 to 72 meters, have since been delivered to their owners.
Vitters Shipyard
Vitters Shipyard is a renowned Dutch builder of custom high performance superyachts. The Vitters team builds one or two unique high-quality sailing yachts per year. These yachts win regattas, comfortably host family get-aways, and turn heads wherever they are in the world. Vitters Shipyard's in-house build and engineering team proactively cooperate with external specialists. Creativity is not only a singular skill but also a function of the collaborative team effort. Vitters Shipyard constantly strives to make the impossible possible and to deliver extraordinary yachts on budget and on time.
VSY
Stella Maris with her split-level decks and sole to ceiling glazing is an extraordinary example of engineering sophistication and environmental responsibility. As a shor listed project in the Power Yacht over 40 metres category in the International Yacht and Aviation Awards, Stella Maris is a spectacular 72-metre vessel launched by the Viareggio-based shipyard – VSY.
Wally
Wally is world leader in yachting innovation, combining latest technology with contemporary design to constantly improve on the water enjoyment with performance, comfort, style. Production includes sailing super yachts (custom built, over 24m); power boats from 45 ft upwards; Wallyace, the ultimate displacement line. The sailing yachts are the world's largest fleet of performance boats over 24m, the Wally Class, recognised in the most important superyacht regattas. Wally is the only yachting brand 2 time winner of Compasso d'oro, the world's most important award for quality and design.
Westport Shipyard
Since the founding of the Westport Shipyard in 1964, we have built and launched a wide variety of vessels, from commercial fishing boats and fast passenger ferries to luxurious motoryachts. Westport was a pioneer in the use of composite materials in yacht and commercial construction, and to date has completed a total of more than 140 yachts and many commercial vessels. Today, Westport builds composite motoryachts, 34m, 38m, 40m and 50m each one, an eloquent statement of elegant style, stellar performance and unsurpassed comfort.
WIDER
WIDER is an Italian yacht builder specialising in the design and construction of composite and aluminum pleasure craft with a focus on outstanding performance combined with low consumption. Established in 2010, the company is led by Tilli Antonelli, one of the most highly regarded and dynamic entrepreneurs in the international yacht building industry. The Express Cruiser range of composite yachts up to 42' are built in Castelvecchio di Monte Porzio (PU). The base for the Superyacht Division, where yachts up to 165' are manufactured in aluminium, is in Ancona offering direct access to the sea.