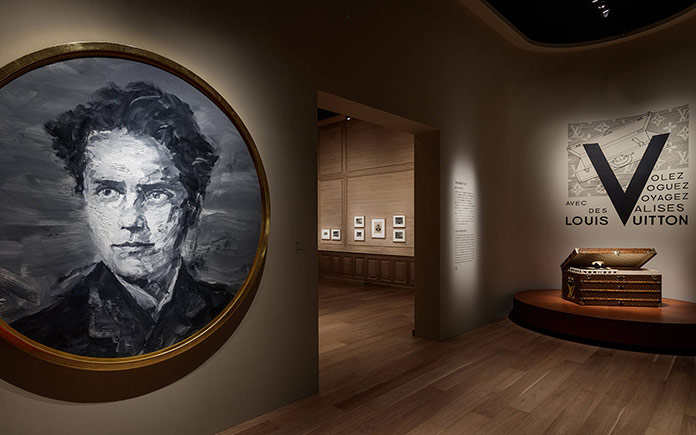 Following the success of the "Voguez, Volez, Voyagez" exhibition, which drew nearly 200,000 visitors at the Grand Palais in Paris, the Louis Vuitton show has traveled to Tokyo, Japan. The thematic exhibition retracing the history of the iconic leathergoods Maison runs until June 7.
As in Paris, visitors to the "Voguez, Volez, Voyagez" exhibition in Tokyo are plunged into the history of the trunk-maker during a  journey in nine chapters that explore the universe of Louis Vuitton and its emblematic trunks. For the Tokyo show, the exhibition also features a chapter dedicated to Japan.
Maison Louis Vuitton and Japan have long held a mutual fascination for one another, nourished from the early decades of the House by the creation of the Monogram by Georges Vuitton, inspired by "mon", ancestral Japanese family emblems. Gaston-Louis Vuitton, his son, developed a passionate interest in objects from Japanese antiquity.
Louis Vuitton was popular among prominent members of modern Japanese society from the late 19th century onwards and opened its first store in Tokyo in 1978, in the same district that is today welcoming the exhibition.
Among the exceptional pieces selected by Olivier Saillard, Director of the Paris Fashion Museum and curator of the exhibition, are a tea ceremony trunk, as well as a Kabuki makeup trunk made for Ebizo XI, the famous traditional Japanese theater actor.
Other pieces created through collaborations with artists such as Takashi Murakami and Rei Kawakubo also testify to the rich and deep ties that link Louis Vuitton and Japan.