High-tech full-size SUV concept shows new Volkswagen approach to premium SUV segment
Volkswagen debuted the T-Prime Concept GTE in a world premiere at Auto China 2016 in Beijing. The concept car previews the future Volkswagen SUV. The T-Prime Concept GTE is a full-size sport utility vehicle with a plug-in hybrid powertrain and all-wheel drive. Volkswagen's new Curved Interaction Area is a completely new digital display and control concept.
This SUV show car combines the best of many automotive worlds: the comfort and spaciousness of a saloon, the superior traction of an off-road vehicle, the agility of a sport sedan and—thanks to innovative drive technologies—the efficiency of a compact car.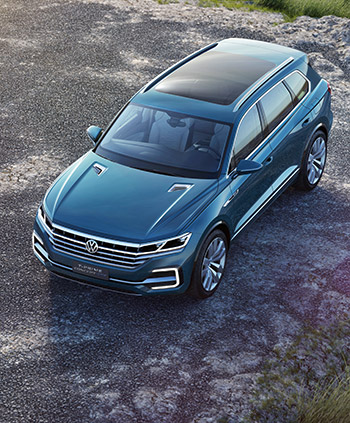 Volkswagen wants to offer an exciting SUV in every relevant market segment. The product campaign starts this Spring with the global market launch of the new Tiguan which will also be offered with an extended wheelbase in certain markets.
Following in car classes above it are a new mid-size SUV (for the USA and China), the successful Touareg and a vehicle in the style of the T-Prime Concept GTE. Beneath the Tiguan, two new SUV model series will make their debut simultaneously: in the Golf class, there will be an SUV inspired by the T-Roc concept, and the T-Cross Breeze that was presented in Geneva shows the direction that will be taken in the Polo class (SUV).
SUVs are booming worldwide, and this is especially true in the segment of the large C-SUVs to which the T-Prime Concept GTE belongs. Forecasts for China predict 18 percent growth between 2017 and 2023; in Europe and Russia growth might even reach 26 percent. Around the globe, annual volume of the exclusive SUVs will reach the milestone of two million unit sales around 2020. With the new T-Prime Concept GTE, Volkswagen is now responding to this trend by introducing one of the most advanced cars in the world.
The concept car is powered by a 375 horsepower plug-in hybrid drive, incorporating an electric motor, turbocharged gas engine, and battery, which can charge externally or during the drive. With a sufficiently charged battery (14.1 kWh energy capacity) this SUV—like all Volkswagen GTE cars—always starts in the practically silent electric E-Mode. It permits up to 31 miles of zero-emission driving in metropolitan areas.
The electric motor develops a power of 134 hp and a maximum torque of 258 lb-ft; the TSI has an output of 248 hp and 273 lb-ft. In boosted GTE mode (kickdown), the full system power and an impressive 516 lb-ft of system torque are available.
The T-Prime Concept GTE can be driven in three different drive modes: E-Mode, Hybrid, and GTE. The system is designed so that the drive utilizes battery energy first, and so it starts off in E-Mode.
Technically, the T-Prime Concept GTE is based on the Group's modular longitudinal platform (MLB); it covers full-size models with longitudinally mounted engines and gearboxes. The concept vehicle is 199.6 inches long. By means of comparison: the SUV is 0.4 inches longer than the first-generation Phaeton. This Volkswagen, which is equipped with two individual rear seats, has a width of 78.7 inches and is 67.2 inches tall. Balanced proportions, a very dynamic silhouette and an athletically tensed body with pronounced shoulders together create an entirely new SUV dynamic.
Anyone looking through the windows into the closed T-Prime Concept GTE discovers one aspect above all else: sporty and stylish elegance and the horizontal orientation of its surfaces. A closer look reveals a mix of cool aluminum (surrounds, door handles), blue leather (upper part of dashboard, door panels, steering wheel rim) and glossy-black surfaces (wing-shaped front side of dashboard, center console, door accents and multifunction switch arrays on steering wheel).