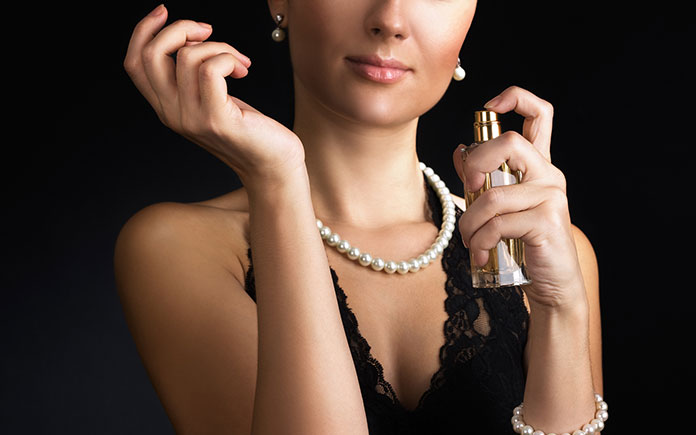 Whilst the shops may be slowly filling up with new-season fashion, chunky knit jumpers and heavy coats being replaced by embroidered miniskirts and sheer lace shirts, the weather outside hasn't quite caught up.
We're in that transitional phase, where the freezing chill of winter still dictates our sartorial choices but our ASOS wish lists are created with foreign beaches and sunny days in mind.
Since it's still too cold to rock the delicate slip dresses and cutout jumpsuits you've got your eye on, indulge your summer fantasies by shaking up one simple thing – your signature scent.
Florals for spring
Yeah, we know, florals for spring – groundbreaking, right? Miranda Priestley may know a thing or two about fashion, but when it comes to spring and summer perfumes there's nothing better than light, fresh and floral scents.
And with online retailers like Fragrance Direct offering some of the best fragrances for women from designer brands at a fraction of their usual price, now's the time to experiment.
Then when spring does eventually arrive, you'll have your favourite one ready to go.
For some extra inspiration, we've running through five of our own favourites. Take a look.
#5: Carolina Herrera 212 Sexy
The clue's in the name, Carolina Herrera 212 Sexy is a sensual and enticing fragrance. Whilst that usually means you can expect a musky and woody overall scent, this version of 212 is a pleasantly fruity surprise.
Tangerine, mandarin and pink pepper notes are freshened up for spring with a sweet heart of cotton candy and vanilla.
#4: Stella McCartney Stella
A perfume designed to encapsulate the beauty of English roses, Stella is a feminine and elegant fragrance perfect for summer evenings.
The packaging may have been given a redesign of late but it still contains the same intoxicating blend of citrus and floral notes. An amber base lends a pleasant warmth and depth to the initial freshness.
#3: Vera Wang Lovestruck
Vera Wang is the only designer to turn to if you're looking for an exquisite and stylish wedding dress, and her Lovestruck perfume beautifully captures the romantic mood she's renowned for creating.
A wide-ranging mix of strong notes, from lotus blossom and mandarin to sheer musk and vanilla, are expertly balanced, resulting in a sophisticated and striking fragrance. As an added bonus, the rose and tulle decorative bottle will make a pretty addition to your dressing table!
#2: Gucci Bamboo
Delicate and intense, floral and woody – Gucci Bamboo is full of contrasts that make for a distinctive but wearable perfume.
It's all thanks to a flawlessly subtle combination of bergamot, ylang-ylang, lily blossom and Tahitian vanilla. All in all, a strong fragrance that'll work for day or night.
#1: Marc Jacobs Daisy Dream Blush
The fresh summer fragrance Marc Jacobs Daisy has taken on somewhat of a cult status with beauty bloggers, thanks in part to it's pretty and Instagram-friendly bottle. The modern classic has been given a shakeup, leaving us with the equally stylish Daisy Dream Blush. It's unashamedly feminine, mixing violet leaves, waterlily, rose and freesia to create a sweet and floral perfume.
Which one's your favorite? Leave a comment and let us know.