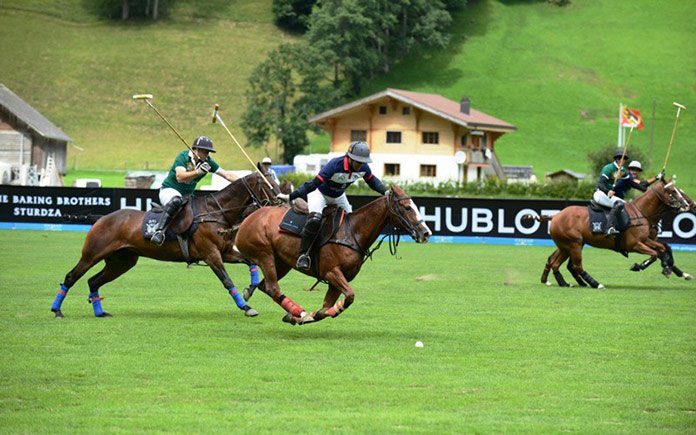 Celebrating 20 years of high-level Polo in Gstaad
Taking place on the Gstaad-Saanen airport field, the only flat field in the entire area, the Hublot Polo Gold Cup is celebrating its 20 year anniversary in 2015, and has proposed a special Jubilee edition for the occasion.
Some of the best Polo players in the world and the hundred or so horses they are bringing with them, will trample on the grass carefully kept all year long for this sole purpose. Ideally positioned in the European Calendar, the Hublot Polo Gold Cup has rapidly became a must for top players such as Olavo Novaes (BRA) Handicap 8, who has decided to return to Gstaad and play again this year. Pierre Genecand, President of the event, has decided to add a Swiss themed special show to the 20th edition of the tournament on Sunday afternoon, just before the Final starts.
"I have been President of the Gstaad Polo since 2006 and each new edition is a pleasure for me. It is of course challenging and expensive to maintain high-level sports events in Switzerland, but it is essential for the prestige of the country. It also enables visitors to discover a new sport with their family. This year, I can guarantee that the show will surprise our spectators. I am very grateful to our sponsors who have been with us for years. An event is nothing without its partners."
Hublot SA, Title Sponsor since 2008, will again sponsor the event in 2015. Banque Baring Brothers Sturdza SA, Gstaad Palace, E.I. Sturdza Investment Funds and Sir Service d'Intervention Rapide SA will be the 4 Team Sponsors in 2015. Vicomte A., McLaren Geneva, Perrier Jouët and Nespresso have also renewed their support to the event. Worth noting also, the arrival of a new sponsor, Fly 7 a private jet company based in Lausanne, promising some spectacular surprises over the weekend.
Each year, over 6000 spectators attend the competitions as well as the traditional Players' parade through Gstaad on Friday afternoon. On Saturday and Sunday, the VIP tent will welcome the cooks of the Gstaad Palace Hotel and treat over a 1000 lucky guests with an array of delicious gourmet food. For the youngest visitors, a gigantic Kindergarten with dedicated carers, will make sure they also have a great time in Gstaad.
The famous Gala night on Saturday August 15th will no doubt be the highlight of the weekend again. The party, led by the DJ of the GreenGo, Gstaad Palace famous night-club, will last well into the small hours.
In 2014, E.I. Sturdza Investment Funds crowned the team's first participation with a victory. What shall this year's outcome be? All shall become clear on August 16th, 2015 in Gstaad.
Programme :
Thursday 13th                   11h – 17h Official Village opens; qualifiers matches.
Friday 14th                         16h Players' Parade through Gstaad
Saturday 15th                    11h- 17h Official village opens; lunch and semi-final matches 20h Polo Night
Sunday 16th                       10h-17h Official Village opens, match for 3rd and 4th place, Special anniversary show and Final.
Notes to editors:
The Polo Club Gstaad was founded in 1995 and the first polo tournament was held in 1996
In 2006 Pierre Genecand became President of both the Club and the Tournament.
In polo, handicaps vary from -2 to +10 (+10 being the best level). Only 11 players, all Argentinians, have a +10 handicap
The Polo Village will be open on Thursday, Saturday and Sunday