[soliloquy id="23600″]
One-shot film directed by Marc Forster featuring spectacular vehicle choreography with supermodel Gigi Hadid
To coincide with the market launch on 16 April, BMW released its "digital-first" campaign for the new BMW M2 Coupé. Stars of the campaign "Eyes on Gigi" are the new BMW M2 Coupé and American supermodel Gigi Hadid, who is appearing in front of the camera for an automobile brand for the first time.
The dynamic performance and agility of the first-ever BMW M2 Coupé and the sensuous beauty and elegance of Gigi Hadid inspired renowned film producer and screenplay author Marc Forster, who directed films such as "James Bond – Quantum of Solace", "Monster's Ball" and "World War Z", to create a highly unusual spot.
Eyes on Gigi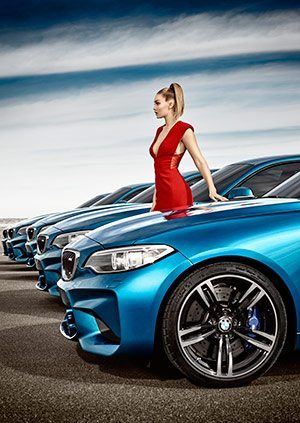 The exciting film, which will initially be released exclusively on YouTube and Facebook from 14 April, invites viewers to play a very different kind of "shell game": The film starts with supermodel Gigi Hadid climbing into one of three parked BMW M2 Coupés; from then on, the viewer tries to keep track of Gigi and her BMW M2 Coupé.
Within a short space of time, two more BMW M2 Coupés join in and a fast-paced vehicle choreography begins – making the task virtually impossible. At the end of the drive, all five M2 Coupés come to a halt and the viewer has to identify which car Gigi Hadid is in.
The spectacular one-shot stunt – captured in a single uncut tracking shot – was filmed at an airfield in California's Mojave Desert under the direction of Oscar-winning cameraman Mauro Fiore ("Avatar", "The Equalizer").
"Eyes on Gigi" is the first time the top model from Los Angeles has officially worked with an automobile brand. "We are delighted to win Gigi Hadid as the face of our global campaign for the new BMW M2 Coupé," commented Uwe Dreher, head of International Brand Communications BMW, BMW i and BMW M. "Gigi and the M2 are the perfect match: Both are strong personalities with fascinating charisma."