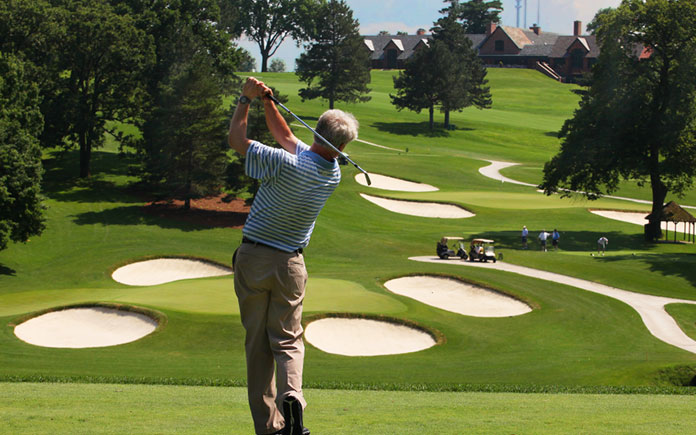 The grand old game of golf is played around the world – in India, China, Scotland, Australia and in the Middle East – but if you want to play in the grandest of style or at least with the highest green fees, then look no further than the U.S.A.
That's right, there are more than 15,000 golf courses in the United States – down from a peak of over 16,000, according to ESPN – and certainly the majority of them are a welcome respite to anyone with time on their hands, clubs in the trunk of the car and $100 in the bank. That means that most of us are comfortable enough playing on a course with greens fees between $30 and $50, maybe coughing up $75 for a day on the links that includes lunch, a new glove and a round of drinks for the foursome in the clubhouse, where you might proudly wolf down a hot dog that costs $1.50.
The works for a guy named Joe Schmo and his buddies Jack, Hack and Slack. But if your last name is Trump, Koch or Zuckerberg and you know how to swing a club, then you'll be looking for more exalted turf on which to park your pars, birdies, and eagles – or your triple bogies, as the case may be.
And you'll rarely have to leave the United States, because eight of the ten most expensive golf courses in the world are U.S. courses and none of them are in Hawaii, which might be a pretty luxurious place to play, anyway.
More: 16 Top-Quality Golf Products From Mercedes-Benz Collection
In fact, Golf Vacation Insider reports that what you might expect to pay in taxes if you play a round at TPC Sawgrass, one of the top three most expensive courses to play in the world, would be about equal to the green fees at your local, neighborhood golf course – or even slightly more than that.
Here's the breakdown on what you might expect to pay for a round at The Players course at TPC Sawgrass, which is in Ponte Verde Beach, Florida, and hosts some of the most exclusive PGA Tour events.
Green fees in peak season: $495 – which includes a cart fee. Caddie fee, which is mandatory if you choose to walk, is an additional $65, a yardage guide is $5 and a cocktail at the bar is $10.
In total, says Golf Insider, expect to pay about $665 for the round of golf, including a logo shirt at the club house, but that's a pretty low estimate given the chances that you'll have lunch, three drinks and buy two shirts, not just one.
Can you pay more for a round of golf? You most certainly can. Golfing guides frequently list Shadow Creek Golf Course in Nevada – north of Las Vegas – as the priciest 18 holes in the country with green fees running $500 per person, even more as some listings say the fees are $500+, although how large a "+" is hard to say.
Still, that's going to be a memorable round of golf. The course, designed by Tom Fazio, opened in 1989 and it's one of the world's most stunning displays of landscaping since the Hanging Gardens of Babylon. Although set in the middle of a desert, the course includes more than 21,000 trees that are mainly set in patterns that obscure the course form public view.
That means you are paying to water one of the most expensive windbreaks in history. In fact, it can only be estimated what it cost to build Shadow Creek, but educated guesses run as high as $100 million.
The name, of course says it all. The words shadow and creek might be fairly pedestrian in New England, but this is a desert where neither shadows or creeks are very common. So Shadow Creek is more luxury than environmentally sensible, but that doesn't mean it isn't worth the price. And then, of course, there's Pebble Beach.
Yes, even the courses in Hawaii, the Augusta National Course in Georgia and St. Andrews itself – in dear, old Scotland – are humbled by the beauty of this pristine, ocean-loving golf course in Pebble Beach, California.
The green fees are a stiff $495, but for that you get a round in which turning a corner is yet another jaw-dropping beautiful view. And – of course, with the difficulty of this course, you could be turning a lot of corners looking for your golf ball.
You can get package deals for most of these courses, because, face it, not many of us live a stones throw from St. Andrews or just down the road from Pebble Beach. So a round of golf in these exclusive clubs likely means air fare, hotel fare and renting a car. If you fancy a private chauffeured car to get to and from the golf resorts, there are several recommended ground transportation providers experienced in golf transportation car services and operating worldwide (Scotland, California, Ireland,…). That's OK. For golf, no price is too steep to keep grown men and women from enjoying the game.
That said, the Top 10 list of most expensive courses in the world generally includes the Whistling Straits Golf Course in Wisconsin (fees: $300 per person), the Kingsbarns Golf Links in St. Andrews, Scotland ($300 per person), the Spyglass Hill Golf Course in California ($315 per person), the Ocean Course in South Carolina ($320 per person), The Pinehurst Course No. 2 in North Carolina ($375 per person), and the Old Head Golf Links in County Cork, Ireland ($400 per person), among a few others.