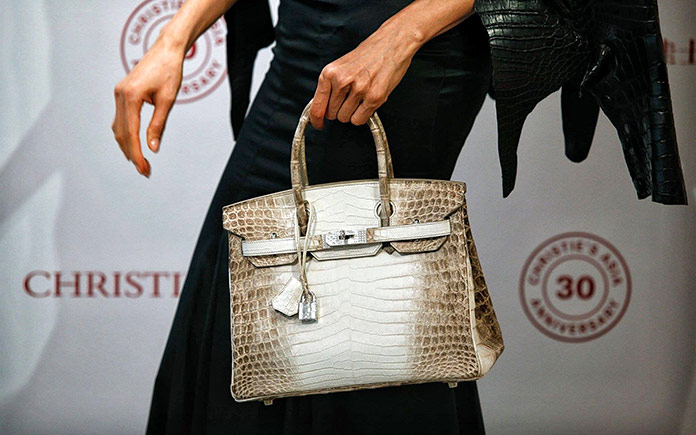 Himalaya Niloticus Crocodile Diamond Birkin 30 is the rarest, most sought-after, most valuable handbag in existence
A diamond-encrusted crocodile-skin Hermes handbag with white gold details has broken the record for the world's most expensive ever sold at auction, fetching nearly $300,000 at a Hong Kong sale.
The diamond pieces created by Hermes are exceptional, but none are nearly as iconic as the Himalaya. It is believed that only one or two, of the Diamond Himalayas are produced each year, globally, making it one of the lowest production runs for handbags. Originally produced in 2008 and retailed in 2009, this unforgettable handbag made history on 30 May.
The rare Himalaya Niloticus Crocodile Diamond Birkin 30 went to an unknown phone bidder late Monday for HK$2.32 million ($298,655), beating a pre-sale estimate of $2 million, the auction house Christie's said.
"It was the world record price for any handbag sold at auction," Bingle Lee, a Hong Kong-based spokesman for Christie's, told AFP.
The new record beat one set last year, also in Hong Kong, when a fuchsia-coloured Hermes bag sold for $222,912.
The handmade bag – described by the London-based auctioneers as the "rarest, most sought-after" – is encrusted with diamonds, while the buckle and trademark mini Hermes padlock are made of 18 carat white gold.
The bag was made in 2008 and is from Hermes' iconic "Birkin" series named after actress and singer Jane Birkin, who was born in Britain and lives in France. It seems Birkin bags are no less popular for actress Jane Birkin's disowning of them out of concern for crocodiles' welfare.
The auction was part of the firm's 30th anniversary sales to mark its presence in Asia, with a range of luxury goods on offer, including Chinese paintings, watches and wine.
For status and craftsmanship, few handbags rival the Hermes Birkin. Kim Kardashian, Bethenny Frankel Lady Gaga, Victoria Beckham and Naomi Campbell are just a handful of the celebrities who have been spotted with them.
Designer handbags are increasingly seen as investment opportunities and are the latest craze for collectors, taking global auction houses by storm and scoring record prices.
A normal Hermes Birkin bag will retail for over $6,000, but some say these bags are more than just status symbols for the rich; they are considered a solid investment and have increased in value by 500 per cent over the past 35 years. A recent study found that Birkin bags have performed better than both the American stock market and the price of gold in the last 35 years.