[soliloquy id="25303″]
Marking magnificence in the Maldives, The Private Residences at Velaa Private Island offer aspirational living and the ultimate escape for only the most discreet. Complete with capacious high ceilings and fine furnishings, each Private Residence on the luxury island leaves a permanent, awe-inspiring impression and guarantees that those who check in won't want to step away.
A slice of your dream home is reimagined in the heart of the Indian Ocean, The Private Residences are complete with four beautiful bedrooms accommodating up to 10, with 1,350 square metres of contemporary elegance. Unrivalled service for each, privileged personalisation is catered by a team of dedicated butlers, so guests do not need to move beyond the limitless luxury of their Residence unless desired.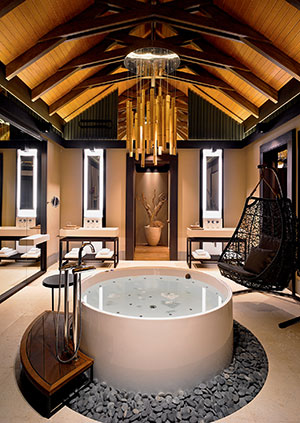 Wellness at your fingertips, guests can work out within the in-house gym, then sink into deep cushions to unspoilt views of the island's ocean setting, or soak within the Jacuzzi, whilst on-demand spa therapists arrive for therapeutic treatments within the private spa parlour for an afternoon of bliss.
For mealtimes, delicious delights and pre-dinner aperitifs will be created under your nose. Guaranteeing memorable moments, the island's highly trained chefs will cook and serve a gastronomic display to savour with friends and family within comforts of The Private Residence. Choose to dine with your toes tucked in the sand of the powder white beach or within the spacious gazebo, which also boasts snooker and table football facilities.
Wrapped within one of the planets most secluded islands, The Private Residences at Velaa Private Island offer flawless facilities and exceptional service. The ultimate escape to tick off the bucket list for an experience of a lifetime, the setting within each Residence is ideal to ensure quality time and the opportunity to reset and recharge with loved ones.
Tucked away within the collection of islands that form the Noonu Atoll, Velaa Private Island is elegantly positioned to overlook enchanting vistas of a cerulean ocean. Its name derived from the generations of sea turtles that flock there to nest and hatch; it is comprised of 47 private villas, houses and exclusive residences.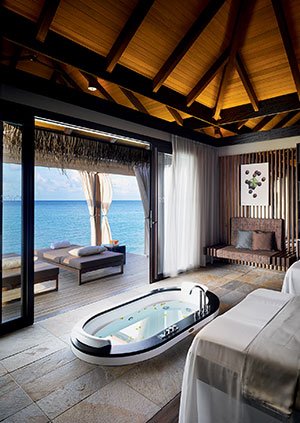 The resort also includes a Romantic Pool Residence which can only be reached by boat, allowing even more exclusivity. Here all details have been considered: each villa comes with a personal butler, all services offered can be tailored to personal specifications, and attention to detail everywhere is impeccable: stone pavements from the desert in Jordan, Indonesian flowerpots, luxury wood panelling from Borneo, and glimmering Italian marble.
Rates within The Private Residences start from $16,000 / £12,700. Rates are quoted in US$ per villa per night inclusive of daily breakfast buffet and are subject to 10% service charge and 12% government tax (TGST).