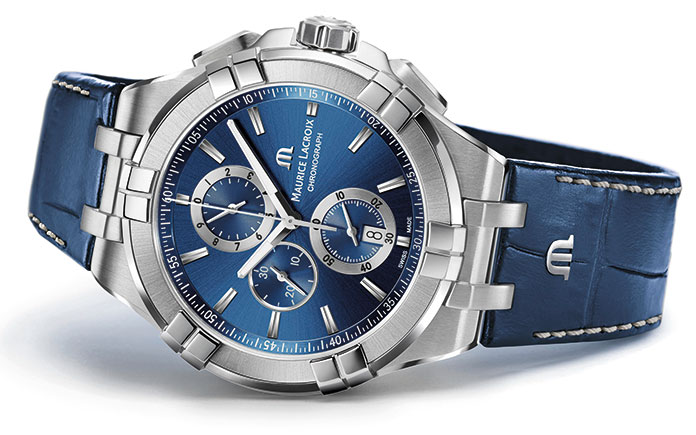 Few watches are regarded as an icon. The aspiration to create a watch that is immediately recognised by many purely by seeing its unique design, is shared by all watch companies. In the 1990s, Maurice Lacroix had such a watch, the Calypso. This iconic quartz timepiece graced the wrists of many style conscious wearers and proved very successful.
In 2016, the progressive watch company, Maurice Lacroix, has updated this iconic watch, aptly named the AIKON; a timepiece with a new, contemporary design, honed to modern tastes.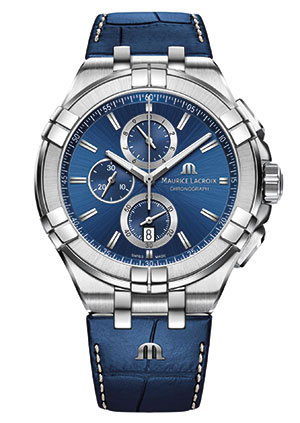 In 2017, The Swiss brand unveils a new look AIKON CHRONO, featuring a cheerful blue sunray dial and matching blue strap with integrated M logo.
The AIKON Chronograph 44mm offers superb wrist presence, exhibiting a strong character and confident persona. Similar to other AIKON watches, this timepiece provides excellent legibility and, courtesy of its thoughtful case design, delivers exceptional wearer comfort. This is a watch equipped with a convenient stopwatch complication, proving ideal for measuring elapsed periods of time when vital seconds matter.
Maurice Lacroix has created a timepiece that encapsulates Swiss watchmaking savoir-faire and the company's design expertise. This timepiece delivers superb value, standing out from the crowd with its unique and admirable array of qualities.