All Patek Philippe commemorative watches from 1989 to 2014 are now in the Patek Philippe Museum.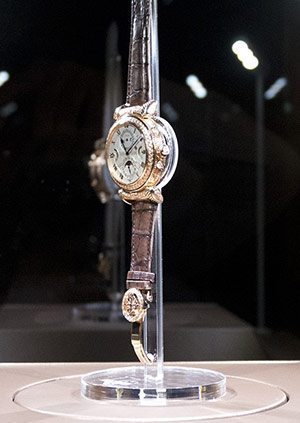 From November 15, 2014, until April 11, 2015, manufacture president Thierry Stern and his father Philippe Stern, both passionate watch lovers, will arrange a last showing of the commemorative timepieces at the Patek Philippe Museum in Geneva's Plainpalais district.
For the staff members of the manufacture, the inhabitants of the city of Geneva, journalists, retailers, watch collectors, aficionados and all connoisseurs of high-end watchmaking artistry, this is a unique opportunity to revel in the beauty and perfection of these rare and highly coveted anniversary watches.
In addition to the watches that memorialize the 175th anniversary, the special exhibition at the Patek Philippe Museum will showcase all Patek Philippe commemorative timepieces that were created since the manufacture's 150th anniversary:
1989 The watches crafted on the occasion of Patek Philippe's 150th anniversary
1997 The watches created to celebrate the inauguration of the new production complex in Plan-les-Ouates, Geneva
2000 The watches that ushered in the 3rd millennium
2006 The watches created to commemorate the total renovation of the Patek Philippe historical building on Rue du Rhône in Geneva with the remodeled Patek Philippe Salons
2014 The watches crafted on the occasion of Patek Philippe's 175th anniversary
A selection of 175th-anniversary Rare Handcrafts timepieces that pay tribute to the unique artisanal traditions of Geneva, Patek Philippe's home town
Museum visitors will also be invited to learn more about the history and technical aspects of the brand via new interactive presentation technologies. As a world debut, the "3D Immersive Experience" allows people to "dive" into a movement – the caliber GS AL 36-750 QIS FUS IRM of the Grandmaster Chime, the highlight of the 175th anniversary – and observe the functions of 4 of the twenty complications of this extraordinary commemorative timepiece in a 3-dimensional, real-time projection.
This exhibition at the Patek Philippe Museum is a must for everyone who wishes to see the globally acclaimed collection of the Genevan manufacture's 175th-anniversary watches and their legendary predecessors.
Patek Philippe Museum
Rue des Vieux-Grenadiers
7CH-1205 Geneva / Switzerland  
Opening hours:
Tuesday to Friday, 2 to 6 pm
Saturday,10 am to 6 pm
Closed on Sunday and Monday