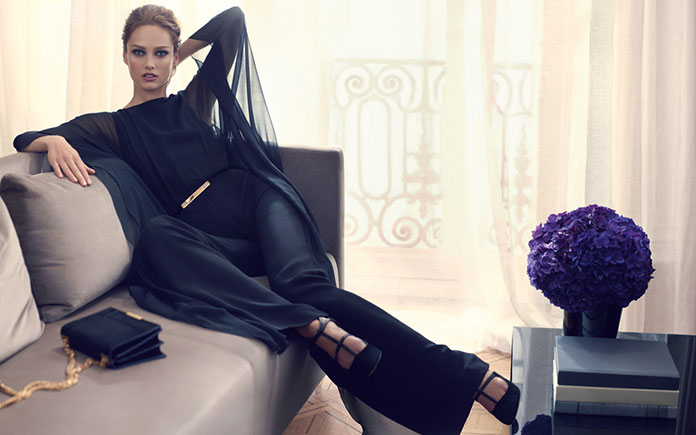 This year, romance isn't just for Valentine's Day
It's a fashion trend set to see you right through summer – and it's expressing itself in a variety of beautiful ways. Dramatic flared sleeves, sheer fabrics, delicate laces, feminine ruffles and applique flowers, there's no such thing as too much with this season's detailing and shapes.
When it comes to color, pink's no longer just for Wednesdays. Ranging from bright fuchsia through to blush stones and peachy nudes, you can go as bold or as subtle as you dare.
Yup, romanticism is back and we've got a few key designers to thank.
The designer champions
Leading the charge is Elie Saab, who is renowned for offering girly gowns with shimmering sheer panels and flowing tulle skirts that are straight from your Disney princess dreams. His spring 2017 couture collection is much the same, adding a splash of periwinkle blue for good measure.
Equally as romantic but with a twist, striking plum colors and fringed leathers lend a darker edge to Rodarte's SS17 collection, only to be softened by fluttering organza embellishments and hair ribbons.
Love was also in the air at Christian Dior, Emilia Wickstead and Valentino, all putting their own unique stamp on what feminine fashion means.
Finding high street alternatives
After proving such a hit on the runway, the romantic trend has unsurprising trickled down to the high street, giving us all a chance to embrace the look for less.
Whether you're on a strict budget or just unsure about ditching your usual black for pink, online retailers like AX Paris let you experiment with this season's prettiest style without having to make a costly investment on a designer gown.
Go all out with a delicate maxi dress or take a tentative step towards a new dreamy wardrobe with a lace top, the decision's up to you.
In case you're looking for some extra inspiration, here are three on-trend romantic pieces currently at the top of our high street wish list.
Crochet maxi dress
A simple silhouette and subtle pale pink color balance out the intricacy of the crochet bodice, making this maxi dress hugely wearable and stylish.
Even better, the asymmetrical sheer cutout is an elegant way of accentuating your waist and showing off your curves. When it comes to your hair and makeup, loose tumbling waves and understated contouring are all you need to finish the ensemble off.
Champagne lace top
Sheer lace, champagne tones, exaggerated ruffles – this top has it all. If you're worried about exposing too much, pop it on over a nude colored camisole for a little extra coverage.
Pile your hair up into a messy bun and wear with distressed denim and metallic stilettos for the perfect, flirty evening look.
Halterneck choker dress
Not ready to give up structured basics for layers of flowing skirts yet? Then this halterneck choker dress is the answer.
The midi body con fit provides your favorite streamlined silhouette, whilst the lace detailing and silver color adds a romantic edge. Pair with an embellished clutch and metallic heels for a glitzy boost.
Have you fallen in love with this season's romantic fashion? Already found your high street saviors? Leave a comment and let us know.