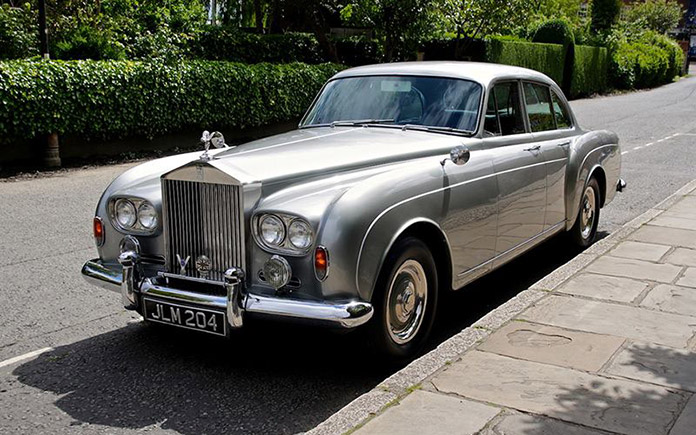 Held in conjunction with the Rolls-Royce Enthusiasts' Club Annual Concours & Rally at Burghley House, Lincolnshire, on 20 June H&H will once again offer a fine selection of Rolls-Royces, Bentleys and motor cars from other prestigious marques.
H&H Classics was founded by Simon Hope in 1993 as a specialist auction house dedicated solely to the sale of collectors' motorcars and motorcycles. Some twenty-two years later, the company can boast a continuous trading history which exceeds that of most UK rivals. The company is staffed by hands-on enthusiasts with over 600 years combined experience, and its specialist valuers are among the most knowledgeable in the industry.
This year, significant pre-War entries include the 1933 Rolls-Royce Phantom II Sedanca De Ville by Windovers, a well-known car in society circles of the time, and a 1923 Rolls-Royce Silver Ghost carrying ingenious painted 'wood-effect' shooting brake coachwork from a car once owned by the future Edward VIII, one of the earliest 'woodies'. Estimates: £70,000 – 90,000 for the former, £100,000 – 120,000 the latter.
The Spanish title 'Marquis de Portago' is best known as the name of the 1950s playboy and racing driver Alfonso, who lost his life in the last-ever Mille Miglia. His father, Antonio Cabeza de Vaca, from whom he inherited the title, was another keen motoring enthusiast and one-time owner of the 1931 Rolls-Royce 20/25 Sports Saloon to be offered by H&H at Burghley House.
The rakish two-tone four-door, an ex-Paris Salon car, past NEC Classic Motor Show champion and former RREC Class and Best in Show winner carries a price of £100,000 – 120,000.
As war clouds gathered over Europe in the late-1930s, Rolls-Royce was in the final stages of designing its new Bentley Mk V, an advanced car with independent front suspension (a first for the company) and a powerful, high-compression 4.25-litre engine. In the end, of the 35 proposed Mk Vs, 17 were reportedly completed before the outbreak of hostilities and just seven are thought to remain in existence today. H&H will offer a Park Ward-bodied Mk V Sports Saloon first sold to Jack Barclay in 1940 when it carried the registration 'JB 1'.
In marque specialist Andrew Wood's (of legendary P&A Wood fame) ownership, the car gained an ex-Woolf Barnato engine updated to the optimum Mk V specification. Today, it is resplendent in its original colours of Corniche Maroon with Pale Grey hide and carpets and represents an almost unique opportunity to purchase one of the 'magnificent seven' Mk Vs extant. Estimate: £120,000 – 140,000.
Moving up to date, there can be few better ways to enjoy serious long-distance motoring four-up than in a four-door Rolls or Bentley Continental, the H J Mulliner-built 'Flying Spur'. Never referred to as such when a Rolls-Royce, the ultimate and most rare version is the V8-engined, 'low radiator', quad-headlamp Silver Cloud III, of which just 52 were made with six-light coachwork to Mulliner design number 2042.
H&H's RREC sale Silver-with-Black-hide 1964 model, estimated at £150,000 – 180,000, could well be the most original and lowest mileage (believed 37,000 from new) example of this very rare car. Extras fitted from new include: air conditioning, a rev-counter, adjustable spot and fog lights, leather dash top and an interior/exterior thermometer.
Finally, of the other entries in the 49-car catalogue, another highlight is the 1969 Bentley T-Series Mulliner Park Ward ('MPW') Drophead. A contemporary of the Aston Martin DB6 Volante, more expensive when new and far scarcer (around 41 cars vs. 275 Astons), the convertible Bentley was repainted to its original Ming Blue and retrimmed Tan in 2012.
Rather than a price of approaching £1m, at Burghley House H&H is offering the perfect car for a visit to the Henley Regatta, the car park of an England rugby international or this September's Burghley Horse Trials for an affordable £45,000 – 55,000.
The sale will take place on Saturday, 20 June 2015 at the Rolls-Royce Enthusiasts' Club Annual Concours & Rally, Burghley House, Stamford, Lincolnshire.