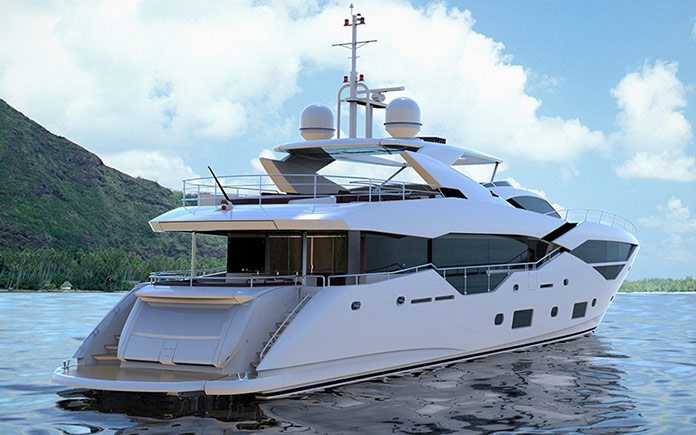 Sunseeker International is looking forward to treating visitors to the best of British at this year's Cannes Yachting Festival. Eight of the brand's luxury performance motor yachts will be on display and the show will also see Sunseeker mark an important milestone for the brand.
The highly popular Predator 57 will be making its show debut on the Sunseeker stand and visitors will have the opportunity to explore this and other models from across the range, including the versatile and elegant Manhattan 55, the powerful 115 Sport Yacht and the sublimely stylish 86 Yacht. Visitors will also be able to learn more about three exciting new models set for launch in early 2016 – the 131 Yacht, 116 Yacht and 95 Yacht.
Sunseeker's highlight of the show will be marking the delivery of its 100th luxury performance yacht in the 100ft+ "superyacht" category. Owners and special guests from across the globe will attend a VIP champagne breakfast event on the 9th of September to celebrate this achievement which signals a true coming of age for this iconic British brand.
The launch of Sunseeker's first 100ft+ model, the 105 Yacht in the summer of 2000, was the initial step in the brand's progress towards becoming a major player in the superyacht sector. Since then, Sunseeker's 100ft+ offering has rapidly evolved and now extends from the sleek and powerful 101 Sport Yacht to the majestic flagship 155 Yacht, with a diverse range of options in between.
Sunseeker is constantly setting new standards and benchmarks across its entire range. With the arrival of new CEO Phil Popham earlier this year, and the strong financial backing and support of its strategic shareholder Wanda Group, the company has ambitious plans to strengthen its position as the number one global brand for luxury performance motor yachts.
The company currently builds more boats 80ft and above per year than any other brand. To build on this dominance, it places a clear focus on innovation through an extensive new product development programme aligned to world class manufacturing and support services across the business.
Sunseeker's CEO Phil Popham said: "Sunseeker is renowned for making luxury performance motor yachts that deliver innovation, technology, design and style. The breadth of our range is the world's largest under a single brand, built upon a heritage spanning nearly 50 years. From our earliest model measuring a very modest 17 feet to our current flagship 155 Yacht, we pride ourselves on hand-crafting boats that inspire and delight. This is a momentous occasion which is truly worth recognising and I am delighted to be joining our customers and colleagues from around the world to celebrate our milestone of delivering 100 luxury yachts over 100 feet."

Sales Director at Sunseeker, Sean Robertson, said: "We are really looking forward to displaying our iconic range of luxury performance motor yachts at this year's Cannes Yachting Festival and delighted to be celebrating the delivery of 100 luxury yachts over 100 feet. This major milestone for the business will be celebrated with Sunseeker owners at the show and we'll also be sharing more details of the exciting new models set for launch in 2016."
Sunseeker models on display at Cannes:
Manhattan 55
Manhattan 65
Predator 57
75 Yacht
86 Yacht
28 Metre Yacht
80 Sport Yacht
115 Sport Yacht