Many gourmets consider high-end French cuisine to be the very definition of fine dining, and it's no surprise that France's capital Paris is home to some of the best examples of this style of cooking in the world. The city is blessed with a high concentration of restaurants that have achieved the ultimate accolade of a three-star rating by the Michelin guide, and while these establishments are priced accordingly, there's no doubt that they provide a dining experience that will live long in the memory.
Le Cinq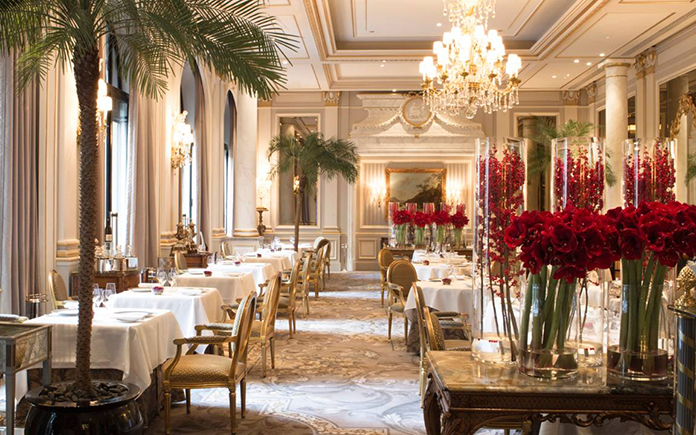 The dining room of Le Cinq overlooks the courtyard of its parent hotel Four Seasons, which in combination with the Regency-style decor makes this an elegant place indeed to dine. The menu is based largely on French classics, although dishes are given a lighter, more contemporary edge that brings the freshest of regional ingredients to the fore.
L'Ambroisie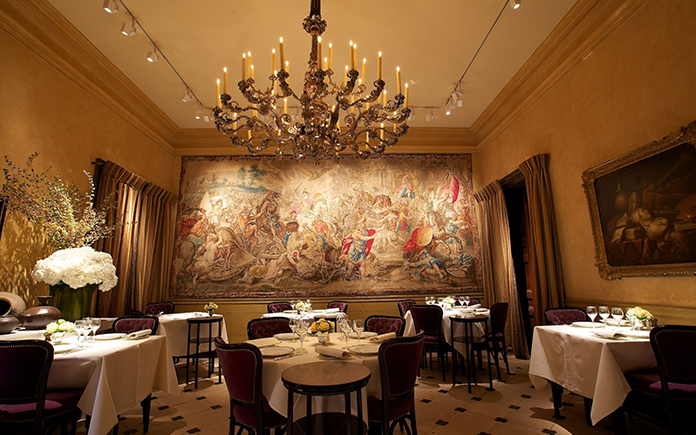 Named after the mythical food of the gods, L'Ambroisie is notable among three-star restaurants for possessing a highly personal touch to compliment the undoubted grandeur. Chef Bernard Pacaud is hands-on in the kitchen rather than a distant supervisor, and his short but beguiling menu features labor-intensive dishes treating the finest luxury ingredients with impeccable classical technique.
Arpège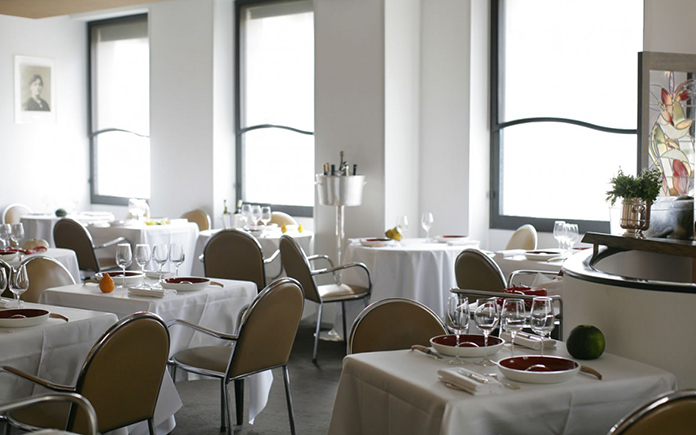 Chef Alain Passard earned Arpège its third Michelin star in 1996, an honor which it has retained ever since. The menu is best described as contemporary French, with a strong emphasis on fresh ingredients. Many of the vegetables are grown in Passard's own three gardens, and are said to never see the inside of a refrigerator on the journey from earth to plate.
Épicure au Bristol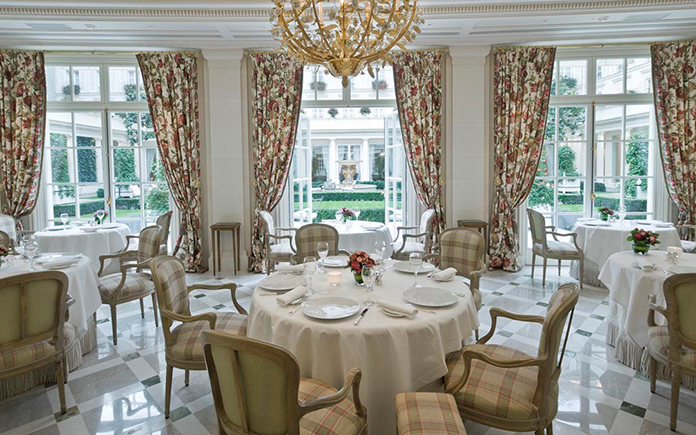 Head chef Éric Fréchon is among the most highly acclaimed of French chefs, winning his first Michelin star back in 2001. The Épicure stays true to his roots in traditional gastronomy, with dishes such as macaroni with truffles and foie gras representing the very best that classic French cuisine has to offer.
Pierre Gagnaire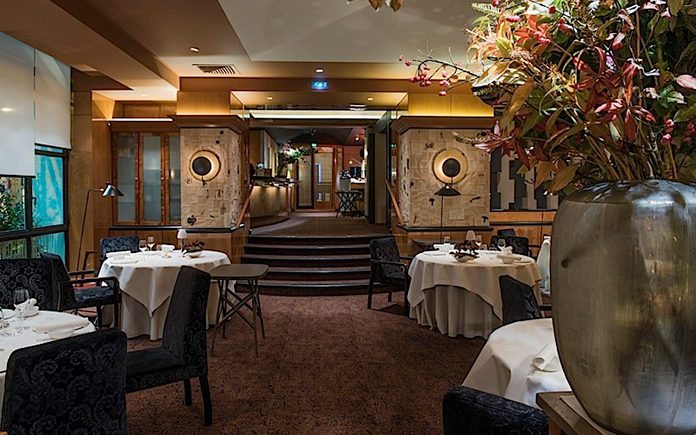 Pierre Gagnaire's eponymous restaurant on rue Balzac offers world-class cooking at prices to match. However, the considerable bill will leave diners enthralled by the globally famous chef's take on modern French cooking with an inventive, idiosyncratic twist. Expect dishes such as wild sea bass served with black truffle and grapefruit, or flights of fancy such as lobster paired with banana and cardamom ice cream.
Le Pré Catelan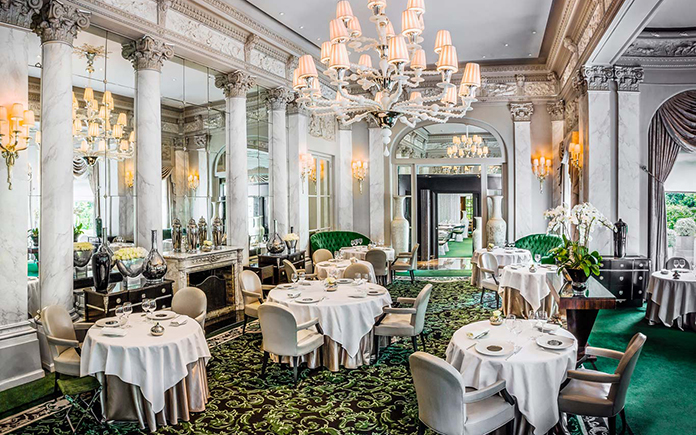 Chef Frédéric Anton took the reins at the single-starred Le Pré Catelan in 1997, and within a decade had built the restaurant up to a fully-deserved three star status. The cooking is firmly in the high-end French style, and diners can expect top quality ingredients such as turbot paired with razor clams and beurre blanc, presented impeccably in a dining room of spectacular beauty.
Restaurant Guy Savoy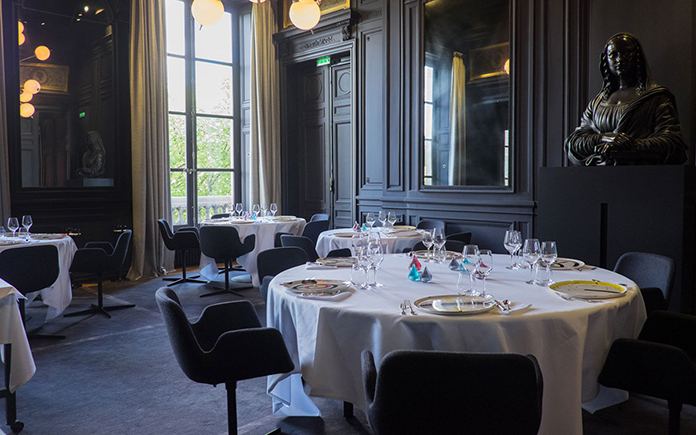 Veteran chef Guy Savoy is a mainstay of the Parisian fine dining scene, and has recently relocated his flagship restaurant to spacious new premises overlooking the Seine. The kitchen's roster of 35 chefs and assistants produce classics such as artichoke and black truffle soup served with toasted mushroom brioche and truffle butter, using ingredients provided by hand-picked suppliers from across France.
Pavillon Ledoyen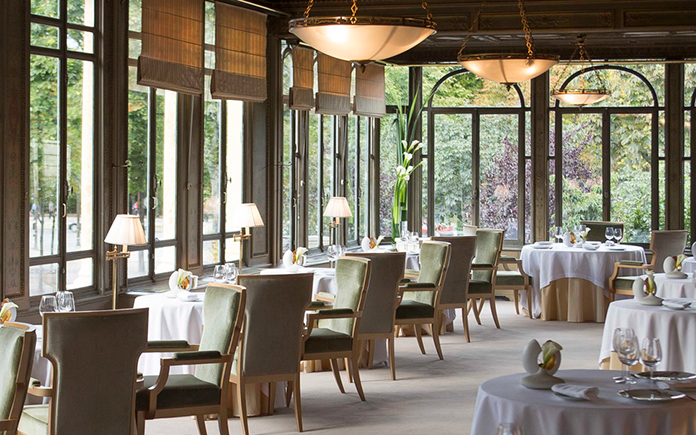 The Pavillon Ledoyen enjoys a prime location on the famous Champs-Élysées and has been a fixture of the Paris fine dining establishment since 1842. Current chef Yannick Alléno took command of the kitchen in 2014, and set about bringing an inventive and modern approach to classical French cuisine. Expect modish techniques such as fermentations, married to superlative ingredients from Wagyu beef to the freshest of sea urchins.
Alain Ducasse au Plaza Athénée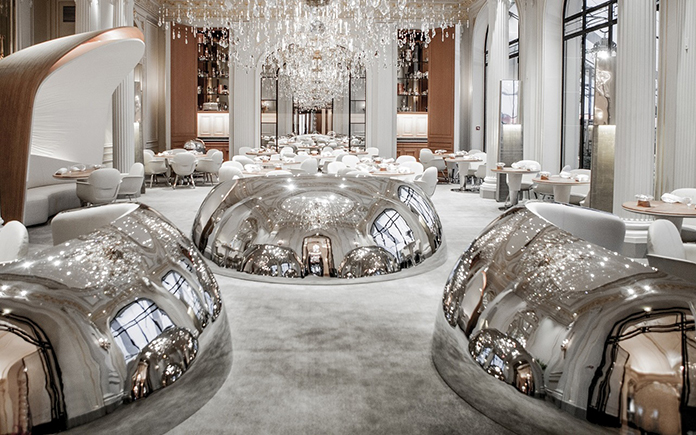 The recently refurbished Plaza Athénée hotel is the site for the latest venture of legendary chef Alain Ducasse. Although drawing on the haute cuisine tradition, the focus is firmly on ingredients rather than over-indulgent technique and artifice. Vegetables are picked in the morning for the evening service, all the fish is sustainably sourced and served within 24 hours of landing, and many dishes explore the possibilities of forgotten heritage grains. If this sounds worthy, never fear: Ducasse insists on bringing his flair, originality, and skill to every plate that's served.
Related: Gastronomic Luxury in Monaco at Louis XV from Chef Alain Ducasse
No visit to Paris would be complete without sampling the best of the cuisine it has to offer. These restaurants are in a class of their own, and are well worth their expense for the privilege of enjoying some of the finest cuisine on the planet.