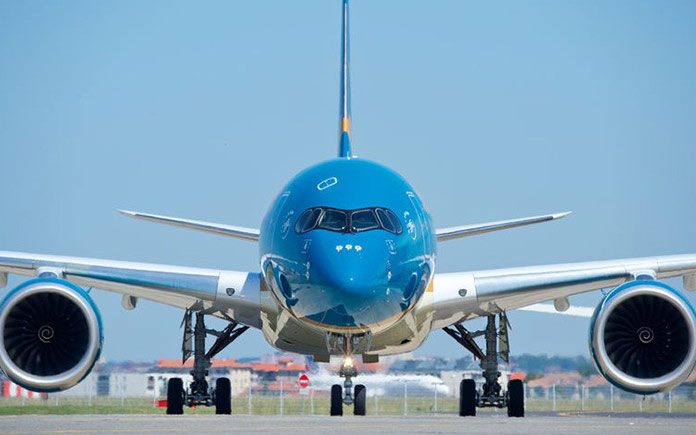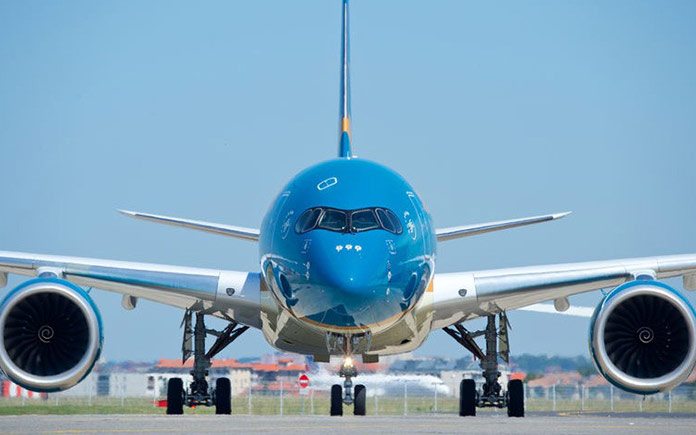 Vietnam Airlines is set to acquire 14 Airbus A350 XWBs, including 10 ordered from Airbus and four from lessors
Vietnam Airlines has become the second airline in the world to operate the all-new Airbus A350 XWB, following a special ceremony in Toulouse today. The A350-900 aircraft was delivered to global lessor AerCap on lease to the airline for operation on long haul routes and is scheduled to arrive in Hanoi tomorrow. Altogether, Vietnam Airlines is set to acquire 14 A350 XWBs, including 10 ordered from Airbus and four from lessors. Qatar Airways is world's first airline who ordered the Airbus A350.
Vietnam Airlines will inaugurate commercial service with the A350 XWB later this week, initially on the Hanoi-Ho Chi Minh domestic sector and then on non-stop flights from Hanoi to Paris. The aircraft is configured with a premium three class layout, with 29 seats that convert to full flat beds in Business Class, 45 seats in Premium Economy and 231 in Economy. In addition to more personal space in all classes, the aircraft features the latest in-flight entertainment and connectivity systems throughout.
Vietnam Airlines' new A350 XWB will join an existing Airbus fleet of 59 aircraft flying with the carrier, comprising 49 A321s and 10 A330s.
"The arrival of the A350 XWB marks the start of a major upgrade of our long haul fleet … Combining the latest technologies, a wider cabin and the highest levels of comfort, the A350 XWB will enable us to fly our passengers in style whichever class of travel they choose. We are proud to be the second airline in the world to receive the A350 XWB aircraft which is a step forward that helps us to fulfil our commitment to "reach further" said Trinh Ngoc Thanh, Executive Vice President, Commercial, Vietnam Airlines

"AerCap is pleased to be the first leasing company to take delivery of the A350 XWB directly from Airbus," said Philip Scruggs, President & Chief Commercial Officer, AerCap. "We believe that the A350 XWB is an excellent addition to the Airbus family of aircraft. It incorporates the latest technology in both airframe and engines and will deliver important operating efficiencies to our airline customers.  We are pleased to be leasing our first A350 XWB to Vietnam Airlines, which is one of the most vibrant airlines in Asia."

"We are proud to see Vietnam Airlines become the second airline in the world to operate the A350 XWB," said Fabrice Brégier, President and CEO, Airbus. "We are confident that the all-new A350 XWB will enable Vietnam Airlines to consolidate its position as one of Asia's leading international carriers, bringing its passengers the best the industry has to offer."

"We also thank AerCap for its ongoing confidence in our products and endorsement of their long term investment value," added Mr Brégier. "The delivery of the A350 XWB for Vietnam Airlines marks a new milestone in our excellent partnership with AerCap, together offering a wide range of modern and cost-efficient fleet solutions for airlines in every market segment."
AerCap is Airbus' largest customer, and has ordered a cumulative total of 945 Airbus aircraft over the years. These include firm orders for a total of 20 A350 XWBs.
The A350 XWB is Airbus' all-new mid-size long range aircraft family and the newest member of Airbus' leading widebody family. The A350 XWB is the world's most modern and efficient aircraft family, setting new standards in terms of flight experience for passengers, operational efficiency and cost-effectiveness for airlines. The Airbus A350 XWB had received 780 Firm orders from 40 customers at the end of April 2015.
With a range of up to 8,000 nm / 14,800 km. it is available in 2 basic passenger versions: the A350-900 seating 315 passenger and the A350-1000 for 369 in a typical two-class layout.
The A350 XWB features the latest aerodynamic design, carbon fibre fuselage and wings, plus new fuel-efficient Rolls-Royce Trent XWB engines. Together, these latest technologies translate into unrivalled levels of operational efficiency, with a 25 per cent reduction in fuel burn and emissions, and significantly lower maintenance costs.
To date, Airbus has recorded a total of 781 firm orders for the A350 XWB from 40 customers worldwide, already making it one of the most successful widebody aircraft ever. The aircraft handed over today is the fifth Airbus A350 XWB to be delivered, following the type's entry into commercial service with its first operator earlier this year.