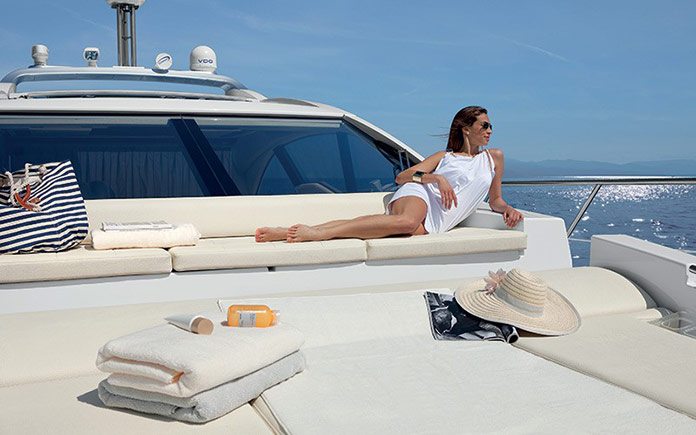 Two Azimut World Premiere and a fleet of fifteen yachts
Azimut Yachts will open the International Boat Show season in style. The events will start in a few months with the Cannes Yachting Festival, which will run from September 8th to September 13th. The Italian shipyard will present a fleet of fifteen yachts, two of which will be a world premiere: the Azimut Magellano 66 and the Azimut 72.
For the Azimut Magellano 66, a 20-meter megayacht that offers the freedom of long-range cruises surrounded by the elegance and comforts of a real house, the first renderings are already available. Fifth model of the Magellano Collection, shares with the previous the Dual Mode hull, which ensures comfortable sailing whatever the sea conditions are.
Surprisingly spacious interiors and a spectacular terrace on the flybridge are the most striking features on a yacht that promises to combine the adventure of a long cruise with all the domestic comfort.
Available also in her Navetta version, main salon and dining area can be separated – if required – from the kitchen and the steering area, so to ensure a total privacy, while the entire main deck extends on one level with huge windows overlooking the sea. The usual very large storage spaces inside and outside makes it possible to keep everything in order. A true sophisticated, timeless interior style.
Yet to be discovered is the Azimut 72 totally new, starting from the concept itself to the use of highly technical construction methods with extensive use of carbon fibre. This model, however, will amaze for her proportions: sleek exteriors spaces perfectly harmonized with spacious interiors.
Among all the models that visitors will find moored at the dock, representing the entire Azimut fleet and its five Collections, special consideration will be given to the new Atlantis 43 premiered at the Dusseldorf Boat Show in January 2015. Sleek with sporty lines, the new model truly represents not just the design flexibility of Azimut but also the genuine "Made in Italy" style: owners have the option of customizing the interior with prestigious Italian-made fabrics by Missoni Home and Loro Piana Interiors.
Azimut Yachts models at the 2015 Cannes Yachting Festival
Atlantis Collection
Azimut Atlantis 34
Azimut Atlantis 43 –2015 Model
Azimut Atlantis 50
Azimut Atlantis 58
Magellano Collection
Azimut Magellano 43
Azimut Magellano 53
Azimut Magellano 66 – WORLD PREMIERE
S Collection
Azimut 55 S
Azimut 77 S
Flybridge Collection
Azimut Fly 45
Azimut Fly 50
Azimut Fly 60
Azimut Fly 72 – WORLD PREMIERE
Azimut Fly 80
Grande Collection
Azimut Grande 95RPH