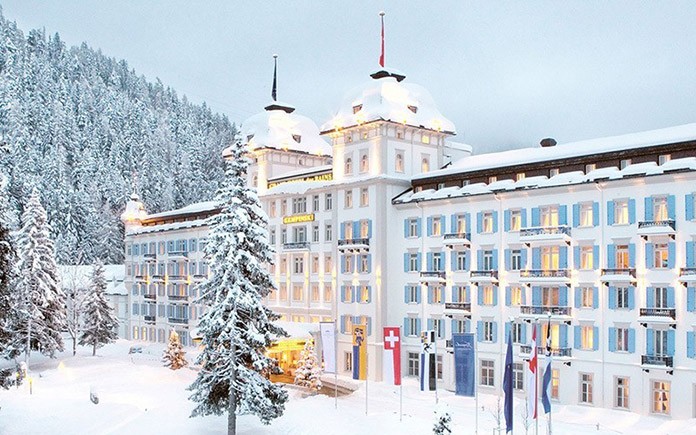 Honeymoon in a winter wonderland – a very special experience at Kempinski Grand Hotel des Bains
It doesn't get more romantic for honeymooners than winter in the Alps. With snow-capped mountains from above on a helicopter tour, a gourmet dinner at a Michelin-starred restaurant, a sleigh ride followed by lunch at the frozen lake in the idyllic winter wonderland, a spa treatment for two, a private butler and champagne, you will fall in love all over again in the new elegant Kempinski Residences at Kempinski Grand Hotel des Bains in St Moritz.
The hotel offers a luxury limousine service from either the Zurich airport or Milan Airport that takes you on the most direct and convenient route to St Moritz. In their own Kempinski Residence, couples can enjoy undisturbed togetherness. Immediately after your arrival, the butler will welcome you with an exotic fruit plate and champagne, providing you round-the-clock service as well.
That same evening, Michelin-starred chef Matthias Schmidberger creates a candlelight dinner at the gourmet restaurant Cà d'Oro and pampers you with aphrodisiac delicacies made of chilli, French oysters and the finest Valrhona chocolate.
The next day, you'll be in seventh heaven on a private helicopter flight over the snow-capped mountain peaks. For lunch, a romantic sleigh ride and a subsequent gourmet menu served on the frozen lake surrounded by a picturesque winter scene and brilliant sunshine will start the fire in your hearts. On the second day, newlyweds can recharge their batteries at Kempinski The Spa.
Enjoy total relaxation for two with a full-body massage in the spa suite and cosy high tea by the fireplace in the lobby bar afterwards. The package price starts at CHF 10,000 per person in the Kempinski residence for a stay of three nights, including honeymoon welcome treatment, daily breakfast, a sleigh ride and a lunch in the snow and an a la carte gourmet dinner. A helicopter ride, 24-hour butler service, an airport transfer from Milan or Zurich, access to Kempinski The Spa and a partner treatment in the spa suite will also be included.