THG Paris, French manufacturer of high-end bathroom fittings, has created a very luxurious series of taps in collaboration with the Manufacture de Monaco, famous porcelain maker with the immense privilege of bearing the official title of 'Purveyor by appointment to HRH Prince of Monaco'. With a presence in many countries, the Monegasque porcelains are highly valued for their distinctive and unique style.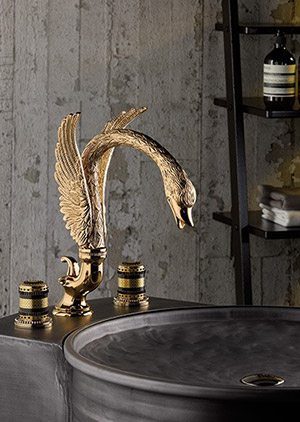 The 'Monte Carlo' series in chic-baroque style, reflects the indisputable expertise of these renowned companies. Indeed, Manufacture de Monaco carves porcelain crosses using a very detailed and distinct technique to traditional techniques. We are talking overlay, which involves working into the porcelain to bring out the pattern; 24 carat matt gold, in yellow or white, is then applied in three layers with annealing between each step.
The final step is to insert delicately, one-by-one, the crystal Swarovski chopsticks. After about fifteen manual manufacturing steps, the crosses that are produced reveal a very fine and structured decor reminiscent of antique filigree jewellery, and especially of Etruscan jewellery.
In the middle of these two crosses a spout rises up which, in its classic version (photo 3), or its 'swan' version (photos 1 & 2), is carefully streaked, making everything perfectly harmonious. Monte Carlo is available in two versions:
24 carat white gold, adorned with Swarovski clear crystals (photo 1)
24 carat yellow gold, adorned with black Swarovski crystals (photos 2 & 3)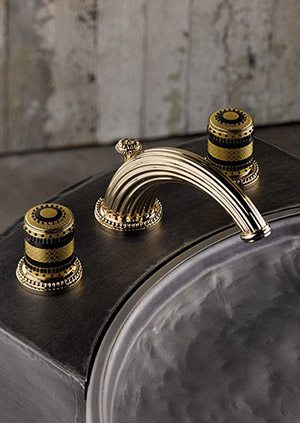 Monte Carlo is available for basins, showers and bathrooms with a range of matching accessories containing the porcelain decorations adorned
with Swarovski crystals (photo 4). It is available in a wide choice of
finishes, including chrome, gold, soft gold, nickel, rhodium silver…
About Manufacture de Monaco
Established in 1972, the Manufacture de Monaco is a leader in fine, quality porcelain which is distinguished by its very white, translucent aesthetic, while remaining exceptionally durable. This quality is achieved by enlisting the unique skills of expert craftsmen who use technical and innovative methods to meticulously create, manufacture and carefully finish each article. Since 1985, Manufacture de Monaco has been the appointed purveyor to His Serene Highness the Prince of Monaco, also providing official gifts to the Palace and the Monaco Government.