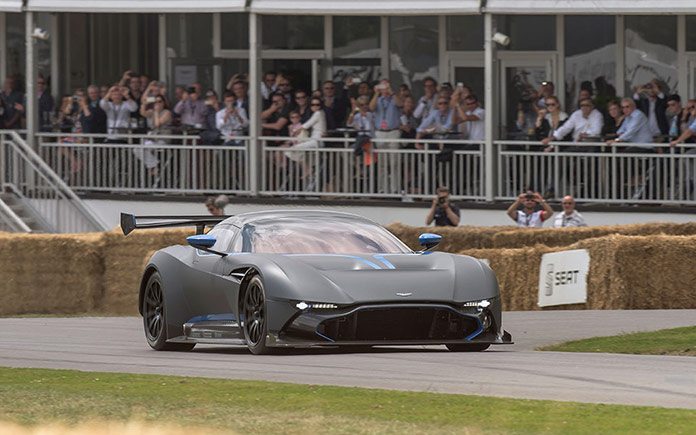 The highly-anticipated Aston Martin Vulcan will attend the showpiece of the Blancpain Endurance Series, the TOTAL 24 Hours of Spa, this weekend (25 July) and will demonstrate its abilities as the ultimate track-only machine as it completes two flying laps of the world-famous circuit.
With its 800-plus bhp powertrain developed in conjunction with Aston Martin Racing, the 7.0-litre V12 Aston Martin Vulcan will be driven by works driver Darren Turner (GB), who has been involved in the design and development of the car from its inception. Turner has more than 20 years experience in developing racing cars and relished the opportunity to put this track-knowledge into Aston Martin's most extreme sportscar.
Utilising the techniques of world-class motorsport engineering, the track-only hypercar sees its power-to-weight ratio exceed those of the Vantage GT3 and GTE racecars that compete around the world.
Comprising cutting edge engineering including that sourced from the brand's successful GT racing campaign, the Aston Martin Vulcan features a carbon fibre monocoque and body constructed by Aston Martin's long-term specialist body engineering and manufacturing partner Multimatic, integral limited-slip differential, magnesium torque tube with carbon fibre propeller shaft and Brembo racing calipers acting on carbon ceramic racing disc brakes which measure 380mm in diameter at the front and 360mm at the rear.
"It's been amazing to have been involved in this project from the beginning…From the conceptual sketches through to working with the designers on driver ergonomics, it is a fascinating process to be part of.

"It was very early days for the car when we first ran it at Goodwood Festival of Speed, but we certainly made a good impression and now we get to show the car in its most natural environment. I'm looking forward to our laps prior to the race and then being able to watch one of the best 24-hour events on the calendar" said Turner
In the 24 Hours of Spa, two of the top Aston Martin Racing customer teams will contest the PRO-AM class with their V12 Vantage GT3s.
Leonard Motorsport AMR will field Stefan Mücke (DE), Stuart Leonard (GB), Michael Meadows (GB) and Tom Onslow-Cole (GB) and Oman Racing by Motorbase will race with its regular Blancpain Endurance Series line-up of Jonny Adam (GB), Ahmad Al Harthy (OM) and Dan Lloyd (GB), as well as welcoming Aston Martin Evolution Academy driver Jonathan Venter (AU) to the team.
"At Leonard Motorsport we have a very strong driver line-up and a good chance of a podium in the PRO-AM class," commented Mücke. "I've had pole with the V12 Vantage GT3 here a couple of years ago and I'll be aiming for the same again this year to give us the best chance of staying out of trouble at the start – in this event we are wheel-to-wheel racing from start to finish."

Also returning to the 24 Hours of Spa is Scotsman Adam, who took British GT Championship victory at Spa just a fortnight ago in the Beechdean AMR V12 Vantage GT3. "Although I've had pole positions and wins at Spa previously, I've never qualified in this event before, so I'm looking forward to that new challenge. The top 20 shoot-out is exciting – it really is a list of the top GT drivers in the world so the competition is fierce. The V12 Vantage GT3 is 'tried-and-tested' and that gives you a lot of confidence going into a 24-hour race like this."
The V12 Vantage GT3 has already had great success in long-distance endurance racing around the world this season, with podiums at Dubai 24 Hours, Bathurst 12 Hours and Daytona 24 Hours, and Team Principal John Gaw is hoping to get a similar result in Europe's largest event.
"We have some of the top teams in GT racing running V12 Vantage GT3s," Gaw commented. "And, they are having great success in some of the toughest endurance challenges around the world. Both Leonard Motorsport and Oman Racing by Motorbase are capable of getting a class podium finish at the 24 Hours of Spa and we are looking forward to supporting them."