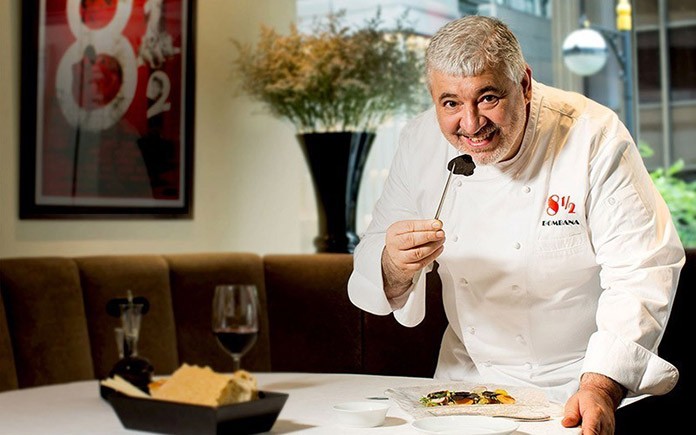 Chef of Three Michelin-starred Italian restaurant '81⁄2 Otto e Mezzo BOMBANA'
Hailed as "The King of White Truffles", Chef Umberto Bombana delights the palates of the world's finest gourmets. A native of Bergamo in Northern Italy, he was trained at Centro di Formazione Alberghiera and apprenticed under acclaimed chef Ezio Santin at Antica Osteria del Ponte, now a Michelin-starred restaurant outside Milan.
"The most important aspect is hospitality: elegance without courtesy becomes arrogance" says Chef Umberto Bombana

"My cuisine is about using the most beautiful seasonal ingredients, served in an Italian style. My aim is to please diners both in terms of preparing exquisite dishes and providing personal, caring service. I want people to come back again and again because they have had the best experience possible."
Chef Bombana's talent and skills soon took him around the world. In 1983, he joined the famous Rex II Ristorante in Los Angeles, where he was lauded for his simple yet refined regional cooking. The restaurant, owned by Mauro Vincenti, is a regular venue for post-Oscar parties. Adding to his foundation were stints in the kitchen with other top chefs such as Gianfranco Vissani, Michel Rostang and Pinuccio Alia.
Chef Bombana then arrived in Hong Kong in 1993 to open Toscana and quickly established it as an iconic destination of the fine dining scene. His distinctive flair and passion for refined Northern Italian cooking offered Hong Kong 15 years of incomparable dining. During his career at The Ritz-Carlton, the chef also shared his expertise at sister properties in Laguna Niguel, California, Boston, Osaka, Seoul and Singapore.
Recognition for Chef Bombana's culinary creations reached an unprecedented level of prestige when he was awarded the Best Italian Chef in Asia by the Italian Culinary Institute for Foreigners (ICIF) in 2002 and then Worldwide Ambassador of the White Truffle in 2006 by the Piedmontese Regional Enoteca Cavour in Italy.
With the closure of Toscana and The Ritz Carlton Hong Kong in 2008, Chef Bombana began his most personal and distinctive project—81⁄2 Otto e mezzo BOMBANA. The restaurant name, selected personally by the chef as a tribute to his favorite Italian film director Federico Fellini's 1963 movie "81⁄2", is a celebration of Italian lifestyle and art.
In December 2010, the restaurant was awarded two Michelin stars after only eleven months of opening. It further achieved three stars in the 2012 Michelin Guide Hong Kong & Macau, becoming the first and only Italian restaurant outside Italy to receive such high recognition and since then, it has retained the honour for four consecutive years.
Chef Bombana's culinary empire has extended to China where he opened 81⁄2 Otto e Mezzo BOMBANA Shanghai in 2012 and Opera Bombana in Beijing in 2013. In December 2013, he opened Hong Kong's first refined Italian trattoria – CIAK – In The Kitchen located at Landmark Atrium, Central.
In June 2015, Chef Bombana opened the latest branch of his famed 8 1⁄2 Otto e Mezzo BOMBANA at Galaxy Macau serving refined Italian cuisine and featuring the finest seasonal ingredients sourced from around the world.